Meira's return postponed to 2010
| | |
| --- | --- |
| By Matt Beer | Friday, September 18th 2009, 01:04 GMT |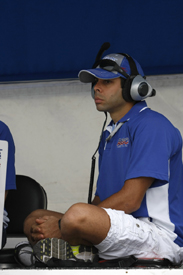 AJ Foyt Racing has called off Vitor Meira's planned return to the IndyCar Series for the season finale at Homestead.
Meira has now received medical clearance to return to the cockpit following the back injuries he sustained in a collision with Raphael Matos at the Indianapolis 500 in May. He will get back on track in a test at Indy on 30 September.
However the team has decided against its original plan of putting him in a second car for Homestead alongside his substitute Ryan Hunter-Reay, with team boss AJ Foyt admitting that he did not have the resources to be confident of running both cars competitively.
"I don't have the people to put together the proper effort for both Ryan and Vitor," said Foyt. "When I made the deal with Ryan, I had told him he'd have a ride for the rest of the season because I didn't really know if Vitor would be ready.
And even though Vitor has been cleared to drive, the more I thought about it, I don't think having his first race back being at Miami is the best thing for Vitor. There's a lot of risk and not that much to be gained.
"We want to get a good start on 2010 with Vitor and do more testing over the winter so I think it's in all of our interests to have him focus on next year."
Paul Tracy initially deputised for Meira but parted company with the team after just one appearance at Milwaukee. Foyt's grandson AJ Foyt IV then returned to the squad for Texas, before Hunter-Reay became available for the balance of the season when his previous team Vision Racing had to scale back to a single car programme. Hunter-Reay then delivered Foyt's best result of the year with fourth at Lexington.
Foyt added that Meira would be given plenty of time to get back up to speed when he returned to the track for the Indianapolis test.
"We're not going for any track records," said Foyt, "I just want to give him some seat time so he can adjust to being back in a race car after being out for so long."