Ferrari: F1 must halt attendance slide
| | |
| --- | --- |
| By Steven English and Michele Lostia | Wednesday, September 16th 2009, 10:42 GMT |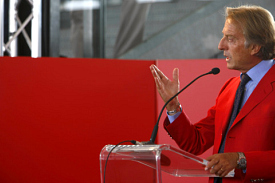 Luca di Montezemolo believes FOTA's planned seminar at the end of this season must result in changes that make Formula 1 more appealing to spectators.
The Ferrari president and Formula 1 Teams' Association chairman believes the reduced attendances this season highlights the need for more work to be done.
"The reduction of spectators, at Monza [which was reported to have 16 per cent fewer spectators this year than in 2008] too, indicates a need to change - no more boring grands prix and polemics," di Montezemolo said at the Frankfurt Motorshow.
"At the end of the year we'll have a work day with the media, organisers and sponsors in order to make this extraordinary sport more interesting."
He also reiterated his desire for the bigger teams in F1 to be allowed to run three cars.
"The Schumacher effect over ticket sales, when it seemed like he could make a comeback, shows how much top drivers and teams attract," he said. "The future of F1 won't be about small teams who don't raise enthusiasm.
"We need the possibility for top teams to field a third car for famous or young drivers."
Di Montezemolo also called for a rethink of the current testing regulations.
"We must also think of testing. We are the only sport that doesn't train. I see many possible adjustments, with no polemics. I hope everyone agrees with the position of Ferrari, which has been in grand prix racing for ever."
He also says Ferrari is now working towards 2010, despite the team's recent upturn in performance.
"I regret the start of the season – there are many things I could say but I won't. In the second half of the season we are among the teams who scored the most points, and we are third in the constructors despite having just one car in the points for the last four races," he said.
"We'll try to finish welll, even though our limits are clear – we are working towards 2010.
"I am happy to see [Felipe] Massa psychologically ready to drive – I've already bet with him that he'll be quicker."