Q & A with Vitantonio Liuzzi
| | |
| --- | --- |
| By Edd Straw | Monday, September 14th 2009, 16:03 GMT |
Q. Did you think that it was possible the weekend could have gone this well - you could have finished on the podium?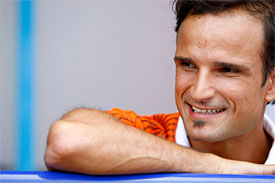 Vitantonio Liuzzi: I thought we would have a pretty good weekend because I like this circuit and the car is going well – the effort from the team has really paid off. But I didn't expect to fight like that for such a good position in the race because we lost a bit of time against the Brawns with tyre graining while I was on soft tyres and we got it back in the second stint.
I was pretty optimistic that we could have finished fifth or even better. We don't want to dream too much, but the speed of the car was there and the second stint would have been OK. I didn't expect everything that happened but I was optimistic.
Q. How important was it for you to come back in and remind everyone of how good you are?
VL: Sometimes, it's not that people want to forget, but when you have a car that is as competitive as this is a good chance that I am there and I never give up. My target is to win races and I want to do that with Force India. They have put in a lot of effort and for the future we have a good chance.
Q. How happy were you with the move on Kovalainen at the Parabolica on lap one?
VL: It was one of the good memories of the race. I'm a fighter and I never give up as happened with Fernando Alonso in the first corner. I knew he had a bit more fuel than me and I gave 100% to overtake him as soon as I could. I had the chance there and I did it.
Q. How disappointing is it to have been denied a good finish by the driveshaft failure?
VL: I'm disappointed because we lost the possibility of points. And then we would have been better in the team championship. The team hasn't had luck in other races and now it's time to capitalise on what we have. I'm hungry for points, and we will never give up.
Q. How do you judge your weekend?
VL: Quite positive, I have to say. Friday we were in good shape, Saturday we had a good qualifying, today we would have finished at least fifth because we had good pace. For a return it was not bad. The team has been great and supported me a lot and Force India has shown that it was not just a one-off in Spa with Adrian Sutil's result. We are in a good position for the future.
Q. Was it difficult to jump back in without any testing?
VL: It was not easy. It's a big handicap for a driver jumping back into the car and wanting to show their potential. There is still a lot more to come for me and I still have to get back all of the speed that I had before, but we are in a good position. The important thing is that the car keeps developing and I get back to where I was so we can do as well as possible.