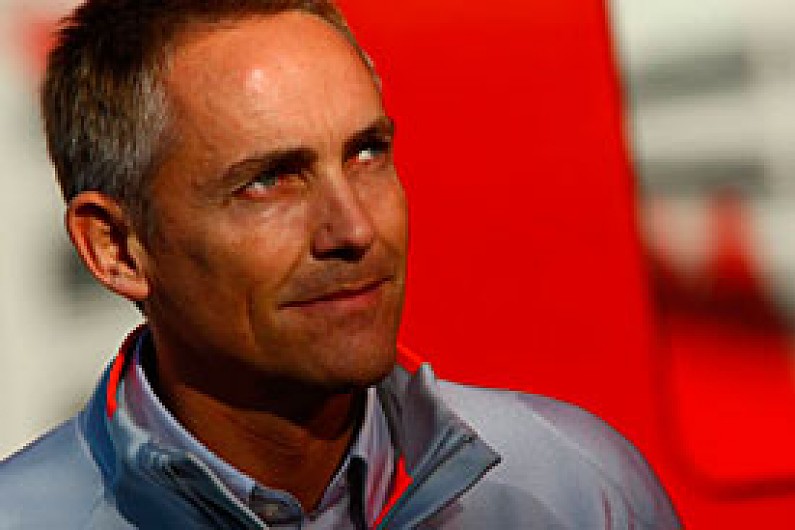 Q. Lewis was in third place and pushing to the end before his crash. Is that the price you pay for having someone who takes it to the edge like that?
Martin Whitmarsh: Yeah. We had a strategy that was inherently five to seven seconds slower than the one-stop, so to be there with them at that point was a bloody good effort. And he had to push through the whole race very, very hard. It was a simple as that. It is as much our fault as it is Lewis' fault - I could have told him to back off.
I thought that if he got up to [Jenson] Button then he could have a pretty good go at it, but he is a racing driver, he pushes and pushes and that happens occasionally. He is disappointed in that, but he is strong enough mentally, and he knows how hard he is pushing and he knows those things happen.
Q. How close do you think the win was?
MW: If you just do it from an analytical point of view, I think the Brawns did a good job. But Lewis was on a strategy that was seven seconds slower than a one-stop, so the fact that he was there or thereabouts means it was pretty close. I think we came here, to a high speed circuit, not our strongest circuit to be there or thereabouts. It is reasonable, and I think Lewis did a good job. It was disappointing he didn't get a third, and disappointing he didn't get up there and have a go at second.
Q. Two crashes in a row for Lewis, which is the first time in his F1 career. What does that do to a driver?
MW: You don't get to being a world champion without having a few crashes along the way. He is very strong mentally and he knows how good he is. He knows that if you explore the limits then occasionally you go over them. I would not give that a moment's thought. It is not an issue. I spoke to him a few minutes ago. He is strong and he will be out there trying to win Singapore. We are going to upgrade the car, and it is a circuit that will probably suit us more than here. And Lewis will want to make sure he wins the race - it is as simple as that.
Q. You said a few races ago that Heikki Kovalainen's qualifying performance was good, but he had to lift himself in the race. He was, fuel-corrected, on pole position - so was his performance in the race disappointing?
MW: Yes, of course I am, and so is Heikki. I think it was a great, great qualifying. We had spread bet and were in the position of being at the front of the one-stoppers and the front of the two-stoppers. But, it was disappointing. We may have made a mistake as a team as we had him on the prime tyre. He had no grip and was struggling. In hindsight, we probably should have started on the option tyre, so that contributed to it. Once you drop back through the grid, it is pretty difficult to recover from that situation.
Q. Has he blown his chance to stay here next year?
MW: No, of course he hasn't. We take a longer term view of his performance and his contribution to the team, and he is a great team player and a great asset to this team. At the end of the day, the most difficult thing is to find drivers who are quick, and he is quick, he is technically good. He has lifted his game today and maybe we contributed to that with the wrong tyre choice.
Q. With the complications in the driver market, and Kimi weighing up options here and at Brawn GP, is there a chance your drivers will not be sorted out until the winter?
MW: No, I suspect they will be sorted out in the next few weeks. That is our inclination.
Q. As team principal, were you happy for Lewis to keep pushing like that until the end?
MW: That is Lewis, and as I said, I have got to hold as much responsibility for it. But he was closing on Jenson, and if he could have got close enough to Jenson then I think he could have got second place. We are a racing team. We are not trying for a championship in the same way as we normally are, and I think that people who are viewing don't want to see a world champion saying I only want third place, I am comfortable with that.
He is a world champion, driving for McLaren, and if there is a chance to come second, which there was a chance, then you have to go for it. We are not playing the points game particularly at the moment, we want results.
New season.
New rules.
New cars.
New drivers.
Get ready for an F1 season like no other with unlimited access to the world's best motorsport journalism.
Get 10 free extra stories
Upgrade for free - and boost your monthly news limit instantly.
Register for free
Expert opinion.
Technical insight.
Unbeatable analysis.