Montoya vows to raise game in Chase
| | |
| --- | --- |
| By Diego Mejia | Sunday, September 13th 2009, 15:00 GMT |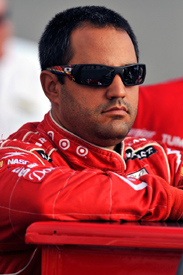 Juan Pablo Montoya has vowed to run better during the coming weeks after clinching a spot in the Chase for the Sprint Cup for the first time in his NASCAR career.
The Colombian ran a conservative race at Richmond on Saturday, spending most of the night among the top ten. However a couple of slow pitstops dropped him down the order in the second half of the race, and in the end he just focused on securing his place in the Chase and finishing, crossing the line in 19th place.
Montoya, the first non-American driver to make it to the series' play-off, was not in celebratory mood despite reaching his main goal for this season by making the Chase, as he focuses now on the final ten races where he believes him and his team need to step up their level of performance in order to be true contenders.
"It's weird," said Montoya. "We work all year for this and today we run pretty conservative, pits were pretty slow but we did what we had do to get in. It's kind of weird, because I should be really pumped up and excited and right now I'm just thinking about [how] we need to run better every week.
"We are pretty close. We have been pretty good every week. So, I don't know. We'll see. I think three races into the Chase, you'll know where you are and see what happens."
Montoya has not won a race this year, but his consistent top 10 finishes helped him into the Chase for the first time. Although he reckons he has already been fighting for wins, he does not rule out that same consistency giving him a realistic shot at the title during the play-off.
"I think right now, it's anybody's game," said Montoya. "I think you've got to finish every race. I think a bad result is going to be a 10th place if you want to win the championship and a good result is going to be like the last couple of weeks for us that we've been fighting for wins. That's the only way to do it.
"The initial plan is to do the same thing we are doing, maybe a little more aggressive on changes. Like we had a good car but fell way behind on the changes. Tried one side, go back and changed it and that didn't work there so we just kept falling back but that's okay."
Montoya has now given his boss Chip Ganassi his first shot at the Sprint Cup title since the Chase format was implemented, following near misses with Jamie McMurray in 2004 and 2005. Ganassi himself believes that after reaching the team's major goal for this year, the bar has to be raised higher for Montoya and his group during the final ten races.
"This is a big thing," Ganassi said. "The first year of the Chase they used to take 10 cars and we finished 11th. The second year they took 10, we finished 12th. So this obviously means a lot and we're really happy.
"We've been through a lot with Juan and there's nobody on the planet I'd rather have driving our car and he knows that. That's what this team is built upon.
"We've worked hard to get to this point but obviously the goal has to change now. We have to get after it now. It's a new race; you reset everything and start from ground zero again. Anything is possible and we've seen that before. I have my money on [Juan]."
Montoya will start the Chase for the Sprint Cup from 11th place, only 40 points behind new leader Mark Martin.