Toyota pair entertained by late battle
| | |
| --- | --- |
| By Matt Beer | Sunday, September 13th 2009, 14:28 GMT |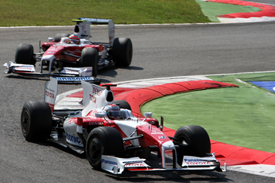 Toyota duo Timo Glock and Jarno Trulli said their spectacular late-race dice at Monza gave them something to smile about on a poor weekend for the team.
Glock and Trulli went wheel to wheel for several corners after the latter lost ground making contact with Williams' Kazuki Nakajima. Trulli then went through the gravel at the Lesmos, falling to 14th while Glock claimed 12th.
"It wasn't the result we wanted but at least it was good entertainment," said Glock. "I had already been fighting with Jarno when I came out of the pits; it was quite tight but he got ahead.
"Then towards the end I could see him try to overtake Kazuki Nakajima but he hit the kerbs and bounced wide. We had a nice battle and made sure we kept it clean. In the end I was on the inside so I won the fight."
Trulli added: "I was behind Nakajima for much of the race and I felt I was able to go faster but it was difficult to overtake. Towards the end I was getting a bit bored to be honest and I tried really hard to find an opportunity.
"As soon as I saw a little space I just dived in and braked very late. The move was almost okay but there wasn't quite enough space and unfortunately I hit the kerb and then I had a bit of a fight with Timo. That was good fun and I enjoyed it.
"I was always on the outside line but I kept fighting because it is better to have a bit of action and in the end it doesn't make much different if I am 11th or 14th. At least I tried because it wasn't an exciting race for me otherwise."
Glock is optimistic that the team will be in better shape for the next race at least.
"It was never going to be easy to get much out of this race but Singapore is a different track and we will have some new bits on the car so we should have a decent chance," he said.