Webber: RBR slump not Renault's fault
| | |
| --- | --- |
| By Stuart Codling and Matt Beer | Sunday, September 13th 2009, 09:08 GMT |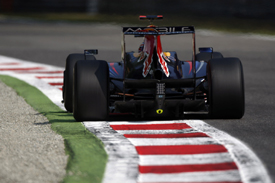 Mark Webber has denied that Red Bull's Renault engines are to blame for the team's lack of pace so far in the Italian Grand Prix weekend.
Both Webber and team-mate Sebastian Vettel minimised their practice mileage to conserve engine life after failures in recent events, while the Mercedes engines used by their title rivals at Brawn took six of the top seven places on the grid.
But Webber defended Renault's performance.
"There are different wing levels going on, so it's always hard to read what the power levels are like," he insisted.
"We've seen a good performance from Mercedes this weekend but I think Renault have done a good job for us so far. I'm in good shape for engines - okay, so Sebastian has fewer, and we've both lost mileage with engines here and there, but Renault are pushing as hard as they can."
The Australian said that Red Bull's recent slump in form after dominant back to back wins in Britain and Germany was due to other teams improving rather than his outfit or its engine supplier losing ground.
"Don't forget that we're second in the constructors' championship and we've had a good year – it's just that other teams have arrived," said Webber.
"The Brawn and Red Bull thing is over; we have many teams coming back now."