Van der Garde wins wet first race
| | |
| --- | --- |
| By Mark Glendenning | Saturday, September 12th 2009, 16:16 GMT |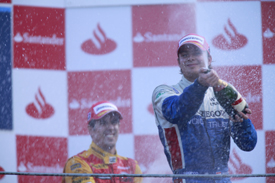 An inspired pit call from iSport helped Giedo van der Garde win a dramatic GP2 race at Monza this afternoon, giving the Dutch driver his first-ever feature race win and his third victory overall for the season.
A sudden and prolonged downpour as the field was forming up on the dummy grid forced the start to be delayed by nearly 40 minutes, but once the race finally got underway the conditions began to improve and a dry line gradually emerged.
Van der Garde had been chasing polesitter Vitaly Petrov (Addax) down for most of the race, and with the pair separated by just a a couple of tenths with a handful of laps remaining, everything hinged on who picked the right moment to pit.
iSport finally showed its hand and called van der Garde in with three laps remaining, and it paid off a lap later when Petrov rejoined from his own stop to see van der Garde turning into the first corner ahead of him.
The win was secured a few moments later when DPR's debutant Johnny Cecotto Jr crashed at the exit of the Lesmos and came to a stop in the middle of the circuit, forcing the race to be finished under safety car conditions.
While iSport's call from the pitwall made the ultimate difference, van der Garde had been clearly quicker than Petrov right through the second half of the race, and had already succeeded in forcing the Russian into a couple of small mistakes but had not managed to capitalise upon them.
Petrov's disappointment at being denied the win was offset to a small degree by the fact that he was able to take a few points away from title rival Nico Hulkenberg, who finished sixth for ART after a rather ragged afternoon by his usual standards.
Racing Engineering's Lucas di Grassi completed the podium thanks to a strong drive from 15th, although he had been given a major scare by Alvaro Parente (Ocean), who had made an even more impressive charge from 18th and spent several laps harassing the Brazilian before being penalised for cutting the chicane once too often.
Jerome D'Ambrosio was fourth for DAMS ahead of Arden's Edoardo Mortara - the pair having started 21st and 22nd - with Hulkenberg, Parente and Javier Villa (Super Nova) rounding out the points.
Despite the slippery conditions, the race saw relatively low attrition. Piquet driver Alberto Valerio spun off at Parabolica on the opening lap behind the safety car, ending his race early, while Arden's Sergio Perez almost triggered something spectacular when he passed Hulkenberg at the exit of Parabolica and then lost it under braking for the first corner, hit the outside wall and spun across the middle of the track.
Somehow, he managed to do so without taking most of the midfield with him, although Cecotto spun across the grass while trying to avoid the Mexican.
Pos  Driver               Team                    Time/Gap
 1.  Giedo van der Garde  iSport              1h03m18.437s
 2.  Vitaly Petrov        Addax                +    2.320s
 3.  Lucas di Grassi      Racing Engineering   +   13.281s
 4.  Jerome D'Ambrosio    DAMS                 +   14.370s
 5.  Edoardo Mortara      Arden                +   24.668s
 6.  Nico Hulkenberg      ART                  +   24.967s
 7.  Alvaro Parente       Ocean                +   30.785s
 8.  Javier Villa         Super Nova           +   34.057s
 9.  Luiz Razia           Coloni               +   40.584s
10.  Davide Rigon         Trident              +   43.870s
11.  Diego Nunes          iSport               +   47.665s
12.  Andreas Zuber        Coloni               + 1m09.511s
13.  Roldan Rodriguez     Piquet               + 1m11.089s
14.  Davide Valsecchi     Addax                + 1m11.994s
15.  Daniel Clos          Racing Engineering   + 1m48.139s
16.  Ricardo Teixeira     Trident              +     1 lap
17.  Kamui Kobayashi      DAMS                 +     1 lap
18.  Johnny Cecotto Jr    DPR                  +     1 lap
19.  Karun Chandhok       Ocean                +    3 laps
20.  Michael Herck        DPR                  +    3 laps

Not classified:

     Luca Filippi         Super Nova          18 laps
     Sergio Perez         Arden               6 laps
     Pastor Maldonado     ART                 6 laps
     Alberto Valério      Piquet              0 laps