Kurt Busch to lose crew chief
| | |
| --- | --- |
| By Diego Mejia | Saturday, September 12th 2009, 01:42 GMT |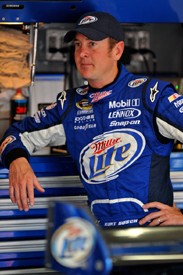 Kurt Busch is set to lose his crew chief for next year as Pat Tryson is expected to leave Penske at the end of the season.
Busch and Tryson have worked together since halfway through the 2007 season, but their partnership is set to end this year as Tryson has reportedly signed a deal with Michael Waltrip Racing to become crew chief for the outfit's new driver Martin Truex Jr.
Busch, a former Sprint Cup Series champion, not only lamented his crew chief's decision, but also the timing of it as they are about to start the battle for the title where they still have to secure a place this weekend at Richmond.
"It's a change that's going to happen," Busch said. "It's unfortunate that Pat made that type of decision. It seems as if our focus right now should be really on the Chase and making it into the Chase, so it was a tough week for that type of news."
Busch said, however, he understood Tryson's decision, comparing it to when he switched from Roush Fenway Racing to Penske. He praised his crew chief for his job at turning his team's performance around since his arrival.
"The timing isn't all that good, but it never is any good when you want to change directions in life," Busch said. "I did that back in 2005 at Roush Racing. There's never really a good time to bring things up.
"I can't be disappointed in Pat or upset at Pat. The way he turned our programme around in 2007, it put him back on the map, so to speak."
Busch and Tryson have won four races in more than two years working together. They took victories shortly after his arrival at Pocono and Michigan in 2007, then won a rain-shortened event at Loudon last year, and this season they dominated at Atlanta in March.
The older of the Busch brothers is currently seventh in the drivers' standing, one race ahead of the start of the Chase for the Sprint Cup.