Fisichella enjoys 'positive' first day
| | |
| --- | --- |
| By Jonathan Noble and Matt Beer | Friday, September 11th 2009, 14:43 GMT |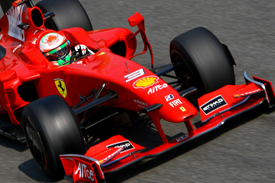 Giancarlo Fisichella felt he had made a satisfying start to his Ferrari stint in practice at Monza, suggesting that he made good progress with understanding the car even though he was at the foot of the times at the end of the day.
The Italian had an encouraging morning session, taking eighth place, ahead of team-mate Kimi Raikkonen, although Fisichella had used soft tyres when many others did not.
He was only 20th in second practice, but said he was content at the end of an emotional day.
"This morning when I was here at the track, especially going down to the car I was quite nervous, but concentrated," said Fisichella. "And it was great. I'm quite positive about the day, I just need to improve somewhere, but apart from that it's been a good day."
Fisichella felt it was hard to compare the Ferrari to the Force India that he had taken to second at Spa.
"It's a different circuit so it's difficult to say, as the level of downforce is much less," he said.
"It's a different car so there is different reaction going into the corners. You work much more with the steering wheel and the switches compared to Force India. With Force India I was just concentrating on the driving, here I am quite busy.
"Tomorrow is going to be another important day for me. It's important to do another good amount of laps and do a little bit more."
Force India was fastest today with Adrian Sutil, but Fisichella said he had expected his old car to be quicker at this stage.
"It's not surprising," he said. "Force India for the last couple of races was very strong, we made a step forward and my last race was fantastic.
"I knew it would be quick be here. I know they are probably lighter than us today in terms of fuel load, but for sure they will be competitive tomorrow."
Today was also Fisichella's first opportunity to use KERS. He admitted he had relied heavily on engineer Rob Smedley's guidance in the morning, but had been getting to grips with the device by the end of the day.
"All session I've been in touch with my engineer, who's been very good on the radio and I was following him," said Fisichella.
"It's not so difficult, you just have to be very concentrated on it. Today in the afternoon I was mainly doing the job on my own without the help of Rob on the radio, so I'm improving all the time and that's the right direction."