Q & A with Heikki Kovalainen
| | |
| --- | --- |
| By Edd Straw | Friday, September 11th 2009, 09:22 GMT |
Q. You had a good result in Spa considering performance of the car, does that give you a boost coming into this weekend?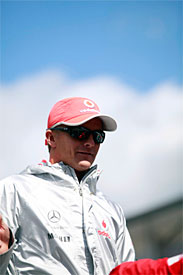 Heikki Kovalainen: It was good to finish the race and improve on my starting position. It was a pretty good race, I felt quite comfortable but we just didn't have the pace to challenge for victory. Coming here, it's a different kind of circuit so we can start from zero again. We can either be competitive or very competitive, it's a bit of an unknown because it's a low downforce configuration. I feel that we are quite prepared and I feel good.
Q. Your rivals are saying that it's a KERS track. Do you agree with that?
HK: It helps the most here out of any circuits. In theory we get the biggest benefit because there are quite a lot of low-speed corners leading onto long straights. When you use the KERS you can keep the advantage for quite a long time on the straights before the speed levels off. It helps, but I think it's still the aero package and efficiency on every other car is going to be crucial. If we don't have strong efficiency or enough straightline speed to the downforce we have it's going to be difficult. The KERS has helped us in every circuit apart from Silverstone this year and it's going to be the same here.
Q. Is the Parabolica a worry - it's important for the laptime but is it slow enough to be OK for your car?
HK: It potentially could be a worry. It's something that we need to look at carefully in practice and get the balance right. It leads to a long straight and you need to carry good speed and get a good exit there. Together with the kerbs, it's going to be the big issue.
Q. After finishing second to Sebastian Vettel last year, do you want to make up for that?
HK: I have a positive feeling about this race. Last year, I was trying to win and after qualifying we were in as strong position. I felt that for the race we had a strong opportunity to fight for victory but Sebastian was stronger. I've always liked this circuit, I had a good time here in GP2 and I did a lot of testing here for Renault. It's a different type of circuit; low downforce, the car moves around, it's high-speed so you need to get used to the different feeling. I'm looking forward to it, but this year you just don't know what is going to happen.
Q. Nelson Piquet has told the FIA that he crashed deliberately in Singapore last year. Does that surprise you?
HK: I don't want to get into that debate. It's not my problem and I want to stay out of it.
Q. In the last four races you've scored points and your performance is improving. Is that connected to rumours you will be replaced?
HK: I don't feel it's anything to do with any other drivers. It's just since I got the new package for the car in Hungary the pace has been pretty good. I had good strong races, they could have been better and I could have been challenging for the podium, but that's the biggest racing. The last few races have been pretty competitive and we need to keep on doing that.
Q. Can you finish on the podium?
HK: That has to be our target. You have to target the best result – so pole position and victory is always our target. But let's see how we get on in practice.
Q. You have some new car parts?
HK: We have a small modification to the aero package. Hopefully it improves the efficiency so the car is quicker in a straightline. Apart from that, the whole aero package is unique because it's very low downforce for Monza. Otherwise, there's no big upgrades.
Q. Is it more difficult to drive here without the test?
HK: Yes, for sure. It's more difficult. It's such a different circuit, the car hasn't got the grip and you have to get used to the car. To get the braking points and the kerbs right it takes some time. But I hope that we are well prepared. I've done a little work on the simulator.
Q. Has anything changed in your situation for next year?
HK: No, nothing new.