| | |
| --- | --- |
| Hayden: Testing ban costly for me | |
| | |
| --- | --- |
| By Toby Moody and Matt Beer | Friday, September 11th 2009, 09:06 GMT |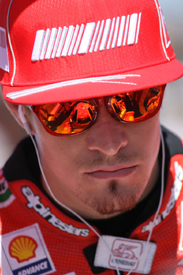 Nicky Hayden is confident that he could have got up to speed on the Ducati GP9 much faster without the testing ban that the MotoGP teams agreed for 2009.
In an effort to cut costs after Kawasaki's departure, MotoGP followed Formula 1's lead and introduced substantial restrictions on testing this season. After the three pre-season tests, only single days at Barcelona and Assen took place during the championship - in contrast to previous years when there were more winter sessions and one or two day post-race tests at the majority of events.
Hayden has become more competitive in recent rounds - taking his first podium for Ducati at Indianapolis - but was off the pace at the start of the year, and now rues the lack of opportunities for more mileage.
"At Barcelona we had one test, and at the time I thought the test wasn't that good, but as soon as we went to Assen I immediately felt a step in those next races," he said.
"And then again at Brno - at the time we tested a few things and it wasn't really clear, but I spent a whole day on the bike just testing and riding, and again we went to Indy and were another step better. It certainly makes me wish I had more testing."
The American is confident he has now turned a corner and can stay with the front-runners for the rest of the season.
"When I ride the bike now, I feel a lot more comfortable," he said. "I enjoy it. You've got to enjoy what you're doing, and at times it was miserable.
"We've still got a lot of work to do, I don't want to get carried away. But we've made some progress with the team, and me and [crew chief] Juan [Martinez] working together. We only started together at the fourth race of the season, that took a bit of time."
Ducati confirmed before Indianapolis that Hayden would be retained for the 2010 season, ending rumours that Dani Pedrosa could take his place. Hayden said he was relieved that all his efforts to improve this year would not be in vain.
"It would have been a real shame, if you look at where we came from the first three or four races to where we are now, to go and start again would have been a shame for me and for Ducati," he said.
"We're just now starting to get real good communication, feeling at home in the team and on the bike. Hopefully we can have a good strong last part of the season, another off-season testing together, and start the season next year much stronger."
He was extremely frustrated to be taken out at the first corner of last weekend's Misano race by Alex de Angelis. Hayden had qualified sixth and reckoned he was on course for his strongest race of the season.
"That was certainly the best race pace I've had, and it was a shame because I could have really learned some stuff in that race and gained some experience on this bike near the front group," he said. "I really was looking forward to that race on the grid more than any race this year."