Alonso backs Renault's focus shift
| | |
| --- | --- |
| By Jonathan Noble and Pablo Elizalde | Thursday, September 10th 2009, 13:53 GMT |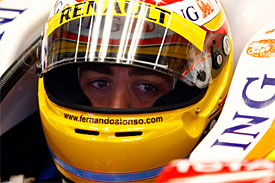 Fernando Alonso has backed Renault's decision to stop developing this year's car and focus on the 2010 machine instead.
The French squad stopped developing new parts for the R29 car two races ago, meaning Alonso will face the five remaining grands prix with the same equipment.
Alonso has scored just 16 points this season, with Renault having not proved competitive enough to fight near the front.
That is why the Spaniard believes Renault has made the right decision in shifting its focus to 2010 early.
"I think many teams have stopped, same as last year," Alonso told reporters at Monza. "When you are not fighting for the championship or for important things it's maybe a good thing to stop so you have time to prepare next year's car.
"I think it's a good thing what Renault did."
The two-time champion remains hopeful, however, that he may be able to give his team its first podium of the season in the upcoming races.
Although Alonso, who won two races at the end of last season, is aware that it will not be an easy to repeat the task.
"This year will be more difficult because I remember last year the team was pushing until the end," he said.
"And this year the team decided to stop the development of the car two races ago, so we will have exactly the same car for the remaining races, so we know how quick we are and it will be difficult to have a magic step forward without any new parts in the car.
"It will be more difficult this year, but I think we can still have some podiums. We were very close in Hungary, close in Spa. I'm sure we will have more opportunism, but I know it's going to be more difficult than last year."