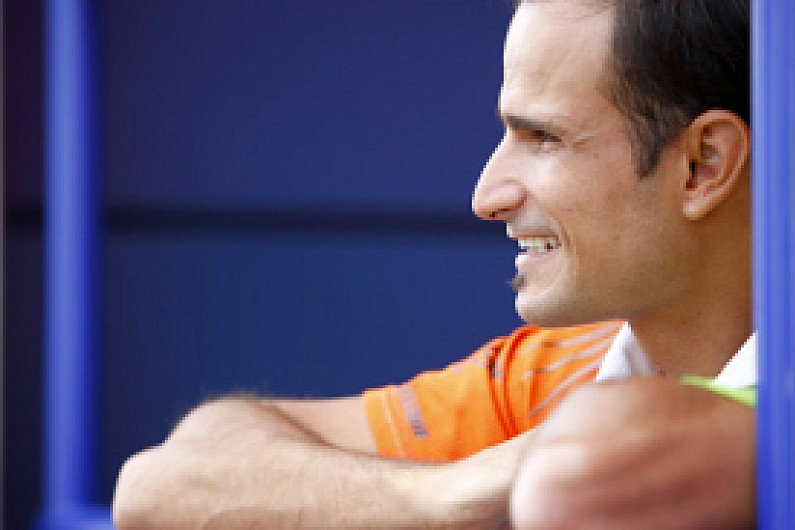 Tonio Liuzzi is determined to earn himself a race seat at Force India in 2010 with a strong showing in the final five races of this season.
The 28-year-old Italian has been promoted from his role as the team's test and reserve driver to replace Giancarlo Fisichella, who has moved to Ferrari.
Although Liuzzi has not raced in Formula 1 since 2007, and has only briefly tested this year's Force India, he is confident that he can prove he is worthy of a full-time drive.
"This is a good opportunity for me to show what I can do," Liuzzi told AUTOSPORT.
"It will be really important for me to show a good performance. My position in the team has grown up a lot in this last year and a half, and I have worked really hard to help the development of the car.
"I think I am in a strong position for the future, for sure."
Liuzzi says he is not at all worried after seeing Luca Badoer's form at Ferrari, following a long break from racing.
"He was in a very different position because he didn't race for 10 years," said Liuzzi. "Force India gave me the opportunity in 2008 to do a lot of mileage and I was up to speed until November last year. That's a much shorter period of dead time and that makes me feel much more confident."
But he admits that it will be difficult to reproduce Giancarlo Fisichella's Spa podium at Monza.
"For Giancarlo it would have been very difficult to repeat the Spa result at Monza. Spa was a very special condition - even with the great step we have in development, we didn't expect a podium.
"But the car is especially competitive at fast circuits and I think it will be at Monza. The only question is how much the cars with KERS can have, because we can see that it will make a big difference for them at a circuit like Monza."
Liuzzi added that the team has to do everything it can to score points while it is in good form, so he will not be treating Monza as a learning step for the following four races.
"I want to finish the race well and score points, so I won't take it just as an acclimatisation - there will be a full push from my side," he said. "The team deserves to score more points in this moment of the year. Everyone has worked very hard and made a great step in development, and they deserve for the team to keep scoring points."
Although Fisichella's experience will be missed, Liuzzi believes he can fill his countryman's role in the team.
"I have worked with Giancarlo for one and a half years, and in that time I learned from him," Liuzzi said. "He has great experience and feedback about the car, and I think I can be at a similar level.
"In testing we have been together and giving pretty similar feedback so I don't feel much pressure from that side.
"After Giancarlo's second place at Spa it won't be an easy position to take, but I am really confident that I can do a good job."