McLaren F1 team backs Magnussen's driving despite Spa penalty
| | |
| --- | --- |
| By Jonathan Noble | Monday, August 25th 2014, 11:47 GMT |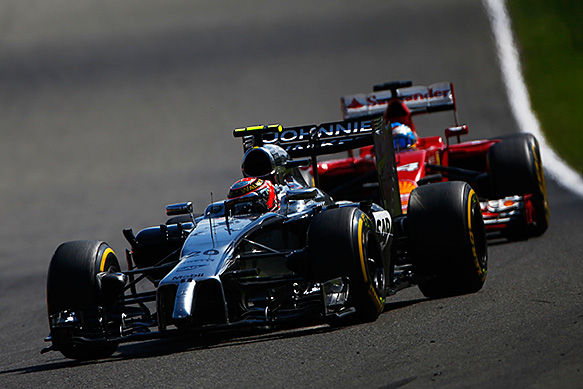 McLaren Formula 1 team racing director Eric Boullier has backed Kevin Magnussen's aggressive racecraft in the Belgian Grand Prix, despite the Dane getting a penalty and losing his points.
Magnussen was relegated from sixth position to 12th overall after being handed a 20-second penalty for pushing Fernando Alonso off track as they fought over fifth position late on.
Despite the controversy, Boullier defended Magnussen's actions, saying that F1 should be embracing such exciting battles at a time when some are complaining the sport is boring.
"I love it. This is racing," Boullier told AUTOSPORT. "It is all what we are talking about, and I think we had an incident-packed race, so it was a great race."
Boullier believes Magnussen has shown good progress over the course of the campaign, having bounced back from some early-year troubles.
"Obviously it is part of the experience he is gaining over the season," he said. "He is very motivated.
"He is new to the category and it is nice to see the big boys a pushing a little bit to show him 'stay behind, kid'. It is part of the learning process, so it is good.
"I think it is not easy to step into F1, especially with a top team. There is a lot of pressure in delivering when there is no more testing. It is not easy."
ALONSO PUSHED ON GRASS
The full incident between Magnussen and Alonso was not caught on television, but his Ferrari rival - who called it "not a big deal" - said that it happened when they were overtaking backmarkers.
"It was a group of cars," said Alonso. "He was lapping one Caterham and we were all in the slipstream of the Caterham.
"Then, when Magnussen moved to pass it, I had extra speed and I tried to overtake. He closed a little, maybe too much, and I had half the car on the grass.
"Then there was a little bit of action in the next corners."