Spa GP3: Zamparelli tops practice interrupted by huge crash
| | |
| --- | --- |
| | Friday, August 22nd 2014, 16:49 GMT |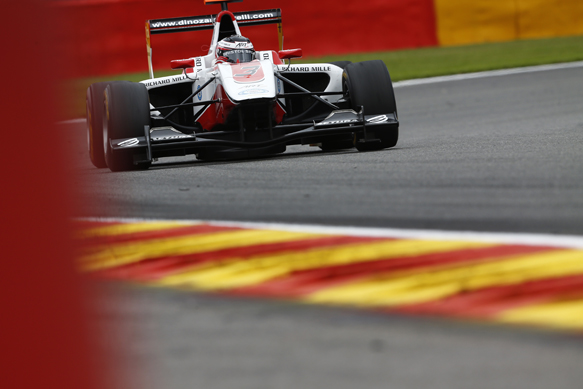 Dino Zamparelli led an ART one-two-three in a rain-hit GP3 Series practice at Spa-Francorchamps, a session interrupted by a spectacular crash for rookie Konstantin Tereshchenko.
Briton Zamparelli hit the front early on with a time of 2m07.021s, which demoted erstwhile pacesetter Alex Lynn, before the championship leader was then pushed further down the order by Zamparelli's team-mates.
Marvin Kirchhofer was the second fastest ART man ahead of Alex Fontana with just 0.371 seconds covering the leading trio.
With light rain descending beginning to fall 15 minutes into the session - mostly within the first sector between Eau Rouge and Les Combes - further gains were not made by anyone in the field.
Lynn therefore maintained his fourth position, with Carlin team-mate Emil Bernstorff fifth and Matheo Tuscher just over a second off the ultimate pace set by Zamparelli.
While nobody made improvements during the final two-thirds of the session, it was not without its moments, with GP3 debutant Tereshchenko crashing in spectacular style.
The 20-year-old Russian went over the kerb at the final chicane after losing control under braking, sending his Trident car airborne, into a roll and then colliding with the barriers, before catching fire.
He was able to vacate the vehicle unharmed and returned to the pits under his own steam.
Once the session resumed after the red flag period, with less than seven minutes on the clock, the rain became heavier and it was not long before another incident occurred.
This time Marussia driver Ryan Cullen came a cropper, although in his case it was at the top of Eau Rouge.
He lost control of his car and made slight contact with the barrier, but it was enough to curtail the session with two minutes still left to run.
Pos  Driver                  Team      Time       Gap      
 1.  Dino Zamparelli         ART       2m07.021s           
 2.  Marvin Kirchhofer       ART       2m07.372s  +0.351s  
 3.  Alex Fontana            ART       2m07.392s  +0.371s  
 4.  Alex Lynn               Carlin    2m07.437s  +0.416s  
 5.  Emil Bernstorff         Carlin    2m07.696s  +0.675s  
 6.  Matheo Tuscher          Jenzer    2m08.035s  +1.014s  
 7.  Nick Yelloly            Status    2m08.232s  +1.211s  
 8.  Jimmy Eriksson          Koiranen  2m08.271s  +1.250s  
 9.  Richie Stanaway         Status    2m08.341s  +1.320s  
10.  Patrick Kujala          Marussia  2m08.374s  +1.353s  
11.  Pal Varhaug             Jenzer    2m08.495s  +1.474s  
12.  Riccardo Agostini       Hilmer    2m08.648s  +1.627s  
13.  Luca Ghiotto            Trident   2m08.674s  +1.653s  
14.  Luis sa Silva           Carlin    2m08.791s  +1.770s  
15.  Santiago Urrutia        Koiranen  2m08.826s  +1.805s  
16.  Nelson Mason            Hilmer    2m08.861s  +1.840s  
17.  Jann Mardenborough      Arden     2m08.918s  +1.897s  
18.  Patric Niederhauser     Arden     2m09.627s  +2.606s  
19.  Ryan Cullen             Marussia  2m09.843s  +2.822s  
20.  Kevin Ceccon            Jenzer    2m10.228s  +3.207s  
21.  John Bryan-Meisner      Trident   2m11.488s  +4.467s  
22.  Konstantin Tereschenko  Trident   2m12.027s  +5.006s  
23.  Alfonso Celis           Status    2m12.213s  +5.192s  
24.  Robert Visoiu           Arden     2m12.241s  +5.220s  
25.  Sebastian Balthasar     Hilmer    2m12.754s  +5.733s  
26.  Carmen Jorda            Koiranen  2m14.456s  +7.435s  
27.  Dean Stoneman           Marussia  2m18.487s  +11.466s