ORECA to supply engines for new LMP3 category
| | |
| --- | --- |
| By Gary Watkins | Saturday, July 19th 2014, 13:05 GMT |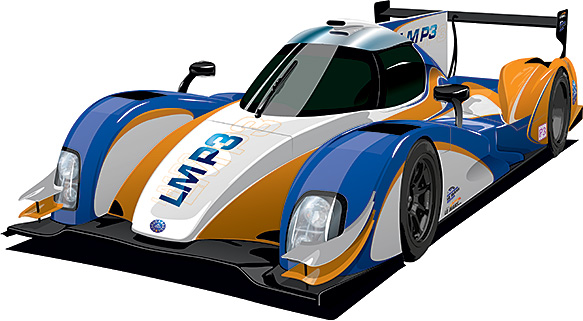 French motorsport group ORECA will supply the engine for the new LMP3 entry-level prototype category when it is introduced next season.
ORECA has won the tender to supply the one-make engine for the Automobile Club de l'Ouest's new class, plans for which were announced last November, and to service the electronics and gearboxes when LMP3 cars join the European and Asian Le Mans Series in 2015.
The ACO made the announcement on the official launch of the new category on Saturday at the Red Bull Ring ELMS round, but it has yet to state the configuration of the engine or the gearbox.
ACO sporting manager Vincent Beaumesnil told AUTOSPORT: "We have chosen the engine, but we have to review some parameters that might affect the weight of the car."
Beaumesnil refused to confirm or deny that the engine it planned to use for the category was the same 6.2-litre Chevrolet V8 that powers ORECA's one-make Formula Le Mans or LMPC class prototype.
He would only confirm that the LMP3 powerplant would be a large-capacity normally-aspirated engine pushing out approximately 420bhp and that its identity should be confirmed within the next week on the publication of the regulations for the class.
The ACO has decided that the class will be open only to closed-top machinery.
Beaumesnil said this was the logical choice to give the cars the same look as cars competing in both LMP1 and LMP2, which is set to become a coupe-only category from 2017.
Composite monocoques will be mandated, but one-piece monocoques with carbon roofs will not be allowed on cost grounds: the rollcage will instead support the bodywork.
LMP3 has been devised as a stepping-stone onto the prototype ladder, according to ACO president Pierre Fillon.
"From the base of the summit, we want to make it easy for drivers, teams and constructors to enter endurance [racing]," he said.
"What was lacking was a quick, safe and low-cost car to help them learn the sport and then move up the steps of the ladder one by one."
The price cap of the car will be €195,000 [£154,000] and it is envisaged that the running costs of the car in the five-round ELMS would be between €350,000 and €400,000 [£277,000 to £316,000]."
Beaumesnil said the ACO was in touch with six constructors about building cars for the new category.
ELMS boss Gerard Neveu said that he was hopeful of the class attracting around two to four cars from the start of next season.