British GP: Mercedes nearly didn't attempt second run in qualifying
| | |
| --- | --- |
| By Jonathan Noble | Saturday, July 5th 2014, 17:13 GMT |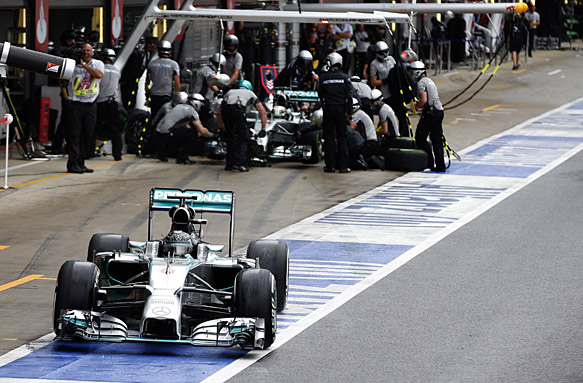 Nico Rosberg has revealed that Mercedes came close to not doing its final runs in qualifying for the British Grand Prix, which would have cost it pole position.
The changeable conditions in the closing stages of qualifying at Silverstone caught out Lewis Hamilton, as he aborted his last run after mistakenly thinking the weather was getting worse.
And although Rosberg seized on Hamilton's error to steal pole position, he admitted that it had been touch and go as to whether or not the team would bother going out at all.
"It was a really close decision and just everybody together, we made a group decision and it was the right call definitely," said Rosberg, when asked by AUTOSPORT about how near the team came to not going out again.
"The tendency was to stay in the garage, but a Michael Jordan quote came into my mind: "You miss 100 per cent of the shots that you don't take".
"I said that to the team - if we go out there is a small chance [of pole position], if we stay in the garage there is no chance.
"I was for going out and they thought about it and made the call to go out. It was great team work and a great decision in the end."
MERCEDES: NO SURPRISE IN HAMILTON CALL
The rapidly changing track conditions meant that Mercedes initially thought it was normal for Hamilton to abort his final run after a poor opening sector to the lap.
In fact, the team admitted that it was more of a surprise the way the final sector came alive shortly afterwards.
Mercedes motorsport boss Toto Wolff said: "I think it seemed OK to back off because it was so wet in the second sector that none of us would have expected the ranking to change completely.
"Our expectation was that he couldn't improve any more. Even if the rain was less in the last sector you would not have imagined that the corners were completely dry, and this is what happened.
"It was 4.5 seconds faster in the last sector, and I think this was not to be anticipated. It was just one of those things."
Although Hamilton bounced back from qualifying difficulties in Austria to finish second, he thinks things will be tougher this weekend.
"I feel tomorrow is going to be damage limitation again," he said.
"We have around 1000 people here tomorrow, and hopefully they will energise me.
"I have got a lot of Mercedes cars ahead which will be very hard to overtake, and it won't be as easy as the last race."