Raikkonen believes F1 would be 'very stupid' to drop Monza
| | |
| --- | --- |
| By Jonathan Noble | Thursday, July 3rd 2014, 18:43 GMT |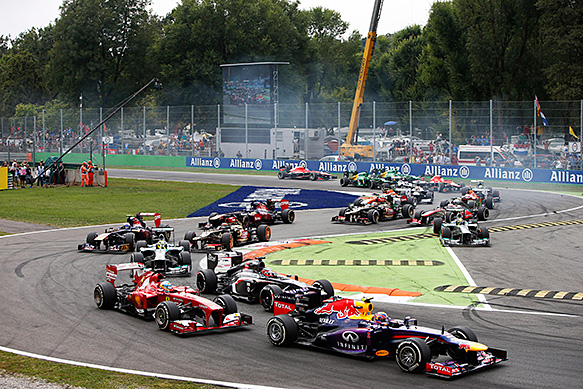 Kimi Raikkonen believes Formula 1 would be 'very stupid' to drop Monza from the calendar, as his rivals agreed that grand prix racing needs to stay at the historic venue.
Earlier this week, F1's commercial boss Bernie Ecclestone said he was not expecting to sign a fresh deal with Monza when its current contract ends because the venue did not pay enough.
His remarks, although perceived as a negotiating tool ahead of talks to sort out a new deal, prompted a huge outcry from fans.
And now a number of drivers have said they believe F1 would be making a huge mistake in not racing at one of its oldest tracks.
Raikkonen said: "You hear how they might drop that race and it would be very stupid in my opinion for Formula 1 and for everybody. Hopefully it will never happen.
"But we are not the guys who decide those things, and for Ferrari it is an important place.
"Unfortunately I never won there, but hopefully in future we can do. It is a very nice place to go."
Red Bull's Daniel Ricciardo said: "I wouldn't like to see it go. Not only because of my Italian heritage and all the rest of it, but because it's a circuit that needs to be part of Formula 1.
"It's been part of it for so long. It's one of the best weekends in terms of fans, atmosphere, and passion. It's like Silverstone and Spa, there's some on the calendar that just need to stay there.
"It's the history of F1. It can't really be tampered with I think. I definitely don't want to see it go. I won't go into if it does go, what it would make us drivers feel but let's hope it stays and it's high speed. It's good fun."
But Ferrari's Fernando Alonso was more cautious about reading too much into Ecclestone's comments.
"I think we need to wait and see what happens officially," he said. "I think he just answered a question to a journalist and they put that in a newspaper, so this combination is not official at all.
"We just need to wait and see what is the future for some races. Obviously we don't have any input on that, so we just try to put a good show in every place we race.
"It's nicer to be in circuits that are full, and full of passion, and with a great atmosphere like Monza, like Austria, like Spa, like Barcelona. But where we race or where we don't race is not in our hands so let's hope for the best."