Norisring DTM: Mercedes on top with Wickens and Juncadella
| | |
| --- | --- |
| By Andrew van Leeuwen | Saturday, June 28th 2014, 11:00 GMT |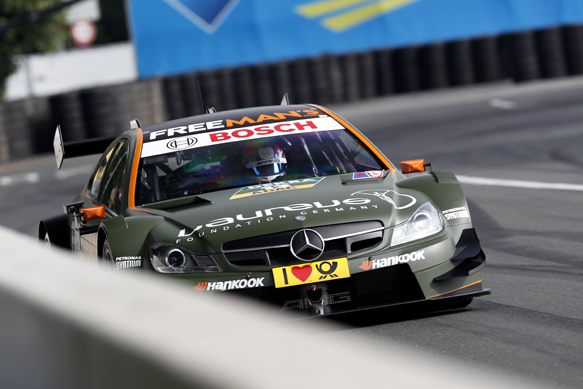 Robert Wickens and Daniel Juncadella were the pacesetters across the two DTM practice sessions at the Norisring, on a morning where Mercedes looked to be the form team.
Given the lack of fast corners on the unique street circuit, Mercedes was confident coming into the weekend that it would at least be closer to Audi and BMW.
On practice form it would appear that Mercedes will actually be the team to beat, with Daniel Juncadella topping the first session, before Robert Wickens set the best time of the day so far to top the second session with a 48.210s.
Wickens was consistently quick across both of the one-hour sessions. In the first, he was seemingly on to be fastest, only to be relegated to second 90 seconds from the end of the session by Mucke driver Juncadella.
But across the second hour the Canadian was peerless, going fastest 11 minutes from the end, and ending up with a 0.095s gap back to Audi's Mike Rockenfeller in second, in a session where the whole field was split by just over six tenths.
Christian Vietoris was third in the second session, ahead of Pascal Wehrlein, making it three C-Coupes in the top four.
While Rockenfeller was the best of the Audis based on his practice two time, the most consistent across the two sessions was Briton Jamie Green, who was sixth in FP1, and fifth in FP2. Mattias Ekstrom also showed some pace for Audi, going third behind Wickens in opening practice.
BMW, however, had a trying morning. Championship leader Marco Wittmann was the best-placed M4 in both sessions, but could manage just 15th in FP1, and seventh in FP2.
That was BMW's only single-digit position across the two sessions, with M4s filling the last seven positions in practice one, and six of the bottom 10 positions later on.
Practice one:

Pos  Driver                  Team/Car        Time     Gap
 1.  Daniel Juncadella       Mucke Mercedes  48.567s
 2.  Robert Wickens          HWA Mercedes    48.573s  +0.006s
 3.  Mattias Ekstrom         Abt Audi        48.664s  +0.097s
 4.  Timo Scheider           Phoenix Audi    48.686s  +0.119s
 5.  Nico Muller             Rosberg Audi    48.704s  +0.137s
 6.  Jamie Green             Rosberg Audi    48.708s  +0.141s
 7.  Pascal Wehrlein         HWA Mercedes    48.719s  +0.152s
 8.  Paul di Resta           HWA Mercedes    48.749s  +0.182s
 9.  Christian Vietoris      HWA Mercedes    48.765s  +0.198s
10.  Edoardo Mortara         Abt Audi        48.791s  +0.224s
11.  Adrien Tambay           Abt Audi        48.844s  +0.277s
12.  Gary Paffett            HWA Mercedes    48.859s  +0.292s
13.  Miguel Molina           Abt Audi        48.870s  +0.303s
14.  Vitaly Petrov           Mucke Mercedes  48.926s  +0.359s
15.  Marco Wittmann          RMG BMW         48.933s  +0.366s
16.  Mike Rockenfeller       Phoenix Audi    48.963s  +0.396s
17.  Bruno Spengler          Schnitzer BMW   48.973s  +0.406s
18.  Maxime Martin           RMG BMW         49.008s  +0.441s
19.  Timo Glock              MTEK BMW        49.026s  +0.459s
20.  Antonio Felix da Costa  MTEK BMW        49.051s  +0.484s
21.  Augusto Farfus          RBM BMW         49.086s  +0.519s
22.  Joey Hand               RBM BMW         49.202s  +0.635s
23.  Martin Tomczyk          Schnitzer BMW   49.231s  +0.664s

Practice two:

Pos  Driver                  Team/Car        Time     Gap
 1.  Robert Wickens          HWA Mercedes    48.210s
 2.  Mike Rockenfeller       Phoenix Audi    48.305s  +0.095s
 3.  Christian Vietoris      HWA Mercedes    48.338s  +0.128s
 4.  Pascal Wehrlein         HWA Mercedes    48.393s  +0.183s
 5.  Jamie Green             Rosberg Audi    48.406s  +0.196s
 6.  Paul di Resta           HWA Mercedes    48.414s  +0.204s
 7.  Marco Wittmann          RMG BMW         48.420s  +0.210s
 8.  Gary Paffett            HWA Mercedes    48.427s  +0.217s
 9.  Mattias Ekstrom         Abt Audi        48.435s  +0.225s
10.  Bruno Spengler          Schnitzer BMW   48.435s  +0.225s
11.  Daniel Juncadella       Mucke Mercedes  48.436s  +0.226s
12.  Adrien Tambay           Abt Audi        48.452s  +0.242s
13.  Nico Muller             Rosberg Audi    48.475s  +0.265s
14.  Maxime Martin           RMG BMW         48.578s  +0.368s
15.  Miguel Molina           Abt Audi        48.625s  +0.415s
16.  Edoardo Mortara         Abt Audi        48.637s  +0.427s
17.  Martin Tomczyk          Schnitzer BMW   48.655s  +0.445s
18.  Augusto Farfus          RBM BMW         48.675s  +0.465s
19.  Joey Hand               RBM BMW         48.678s  +0.468s
20.  Timo Glock              MTEK BMW        48.699s  +0.489s
21.  Timo Scheider           Phoenix Audi    48.772s  +0.562s
22.  Antonio Felix da Costa  MTEK BMW        48.786s  +0.576s
23.  Vitaly Petrov           Mucke Mercedes  48.836s  +0.626s