Moscow FR3.5: Sauber F1 junior Sergey Sirotkin tops Friday practice
| | |
| --- | --- |
| By Glenn Freeman | Friday, June 27th 2014, 11:59 GMT |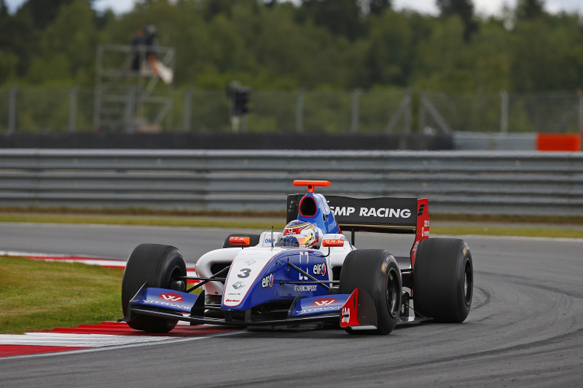 Sergey Sirotkin led the way on home soil in Formula Renault 3.5 free practice at Moscow Raceway on Friday.
The Sauber Formula 1 test driver moved to the top of the times with eight minutes remaining in the afternoon session, setting a best lap half a second clear of the rest of the field.
The Russian's place at the top of the order was secured when the session was red-flagged with three minutes to go, meaning that the traditional end-of-session improvements throughout the field were cut short.
That left Zoel Amberg as Sirotkin's nearest challenger, ahead of Roberto Merhi, Norman Nato and Richie Stanaway.
Morning pacesetter Will Stevens was sixth fastest by the end of the day's running, just ahead of fellow title contender Oliver Rowland, who had led the way early on in second practice.
Championship leader Carlos Sainz Jr - who unlike his nearest rivals has never raced at the Russian circuit before - was only 12th fastest, having slipped down the order once others started to improve in the final 10 minutes.
Morning session:

Pos  Driver               Team     Time       Gap
 1.  Will Stevens         Strakka  1m21.961s
 2.  Richie Stanaway      Lotus    1m22.013s  +0.052s
 3.  Norman Nato          DAMS     1m22.253s  +0.292s
 4.  Carlos Sainz Jr      DAMS     1m22.316s  +0.355s
 5.  Pierre Gasly         Arden    1m22.563s  +0.602s
 6.  Sergey Sirotkin      Fortec   1m22.581s  +0.620s
 7.  Oliver Rowland       Fortec   1m22.618s  +0.657s
 8.  Pietro Fantin        Draco    1m22.725s  +0.764s
 9.  Matias Laine         Strakka  1m22.737s  +0.776s
10.  Roberto Merhi        Zeta     1m22.908s  +0.947s
11.  Will Buller          Arden    1m22.927s  +0.966s
12.  Marlon Stockinger    Lotus    1m23.071s  +1.110s
13.  Luca Ghiotto         Draco    1m23.170s  +1.209s
14.  Zoel Amberg          AVF      1m23.272s  +1.311s
15.  Roman Mavlanov       Zeta     1m23.344s  +1.383s
16.  Meindert van Buuren  Pons     1m23.353s  +1.392s
17.  Marco Sorensen       Tech 1   1m23.382s  +1.421s
18.  Beitske Visser       AVF      1m23.536s  +1.575s
19.  Jazeman Jaafar       ISR      1m23.671s  +1.710s
20.  Oscar Tunjo          Pons     1m24.238s  +2.277s

Afternoon session:

Pos  Driver               Team     Time       Gap
 1.  Sergey Sirotkin      Fortec   1m20.723s
 2.  Zoel Amberg          AVF      1m21.239s  +0.516s
 3.  Roberto Merhi        Zeta     1m21.295s  +0.572s
 4.  Norman Nato          DAMS     1m21.321s  +0.598s
 5.  Richie Stanaway      Lotus    1m21.387s  +0.664s
 6.  Will Stevens         Strakka  1m21.515s  +0.792s
 7.  Oliver Rowland       Fortec   1m21.570s  +0.847s
 8.  Will Buller          Arden    1m21.677s  +0.954s
 9.  Matias Laine         Strakka  1m21.756s  +1.033s
10.  Jazeman Jaafar       ISR      1m21.784s  +1.061s
11.  Marlon Stockinger    Lotus    1m21.957s  +1.234s
12.  Carlos Sainz Jr      DAMS     1m21.970s  +1.247s
13.  Oscar Tunjo          Pons     1m21.976s  +1.253s
14.  Pietro Fantin        Draco    1m21.996s  +1.273s
15.  Pierre Gasly         Arden    1m22.066s  +1.343s
16.  Meindert van Buuren  Pons     1m22.472s  +1.749s
17.  Beitske Visser       AVF      1m22.479s  +1.756s
18.  Roman Mavlanov       Zeta     1m22.730s  +2.007s
19.  Marco Sorensen       Tech 1   1m22.736s  +2.013s
20.  Luca Ghiotto         Draco    1m22.788s  +2.065s