Haas: Building F1 team from scratch better than buying existing one
| | |
| --- | --- |
| By Jonathan Noble | Tuesday, June 17th 2014, 10:29 GMT |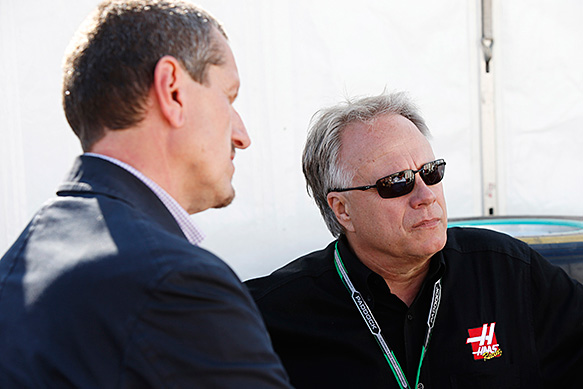 Gene Haas insists he is better off having the difficulties of starting his new Formula 1 team from scratch rather than buying a current outfit like Caterham or Marussia.
Although bracing himself for some tough times when he enters F1 at the start of 2016, Haas believes that purchasing a current team to ease his entry would have brought with it too many complications.
When asked if he was now fully committed to doing it himself, rather than look at buying someone else's entry, Haas told AUTOSPORT: "Absolutely.
"I'm not even sure those teams are for sale, people say they're for sale, but every time you talk to them there are always complications - you have to pay this debt off, it's in this location, you have these people.
"So any time you buy an existing team you have these complications.
"With our way we have a fresh start, which obviously has its problems. We're going to struggle, no doubt about that. We have a lot of learning to do.
"We have to figure out how to get the cars on the track, how to get them to the track, so there's a lot of that needs to be done. And that's what's going to take time to build."
EUROPEAN BASE PLANNED
Although some have questioned Haas running an F1 team out of his Charlotte headquarters, there are plans to set up a European base as well to help on the logistics front.
"There will have to be some kind of European base at least for the cars to go to initially, because we've got to ship them out of either London or Germany," he said.
"We'll probably have to have something where we can at least work on the cars. Primarily everything is going to be made in North Carolina.
"The engines and stuff will go there, and the finished cars will then be shipped to some location [in Europe] for transport to the races, or the European races.
"Then when they're done they'll go back there for refurbishment, or whatever is required."
Haas also does not think it will be a problem to attract the right personnel to his F1 team despite the main factory being in the United States.
"Being in Charlotte, the distance between there and London is an eight-hour flight, and there are so many direct flights, so the transportation and communication shouldn't be too big of an issue," he said.
"That's just the way it is these days. If we have to find the right people and they are in different parts of the world we can use this technology to bring them together with us."