Le Mans 24 Hours: #1 Audi leads thanks to sister car turbo change
| | |
| --- | --- |
| | Sunday, June 15th 2014, 05:59 GMT |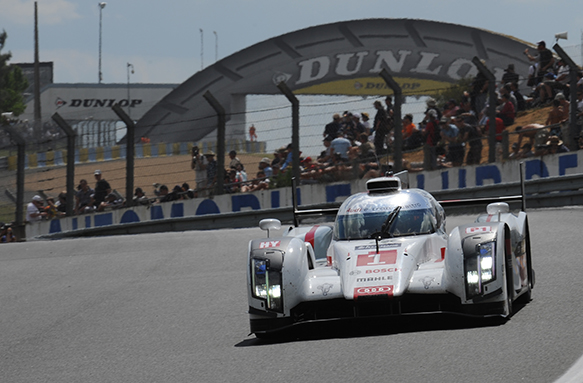 The #1 Audi R18 e-tron quattro driven by Tom Kristensen, Lucas di Grassi and Marc Gene moved to the top of the field at the Le Mans 24 Hours when its sister car encountered problems.
Marcel Fassler brought the #2 Audi into the pits shortly before the end of the 16th hour with turbocharger issues that resulted in the car being pulled back into its garage.
An attempted quick-fix failed and the Audi Sport Team Joest squad opted to change the turbo, the total loss of time ending up at 23 minutes.
That converted a lead of more than two laps for Fassler and team-mates Andre Lotterer and Benoit Treluyer into a two lap deficit and dropped them to third place behind the #20 Porsche 919 Hybrid with Mark Webber at the wheel.
Gene was able to extend his lead over Webber over the course of the hour when the top two cars ended up behind different safety cars during a short caution period.
The #1 Audi was rebuilt on Wednesday night following Loic Duval's shunt during free practice, with Gene drafted in to replace him.
In LMP2, the #35 G-Drive-backed OAK Racing Ligier continues to lead, although Shulzhitskiy's advantage over the #36 Signatech Alpine ORECA has been reduced.
Aston Martin Racing moved back into the lead in GTE Pro with the Vantage shared by Darren Turner, Stefan Mucke and Bruno Senna after Giancarlo Fisichella made a two-minute stop during the safety-car period, although the AF Corse Ferrari moved back into a narrow lead when the Aston made a scheduled stop at the end of the hour.
POSITIONS AFTER 17 HOURS

Pos Cl       Car       Drivers                             Laps  Gap
 1. LMP1 #1  Audi      Di Grassi/Gene/Kristensen           262  
 2. LMP1 #20 Porsche   Bernhard/Webber/Hartley             262  +  1m53.847s
 3. LMP1 #2  Audi      Fassler/Lotterer/Treluyer           260  +     2 Laps
 4. LMP1 #8  Toyota    Davidson/Lapierre/Buemi             254  +     8 Laps
 5. LMP1 #14 Porsche   Dumas/Jani/Lieb                     253  +     9 Laps
 6. LMP2 #35 Ligier    Brundle/Mardenborough/Shulzhitskiy  247  +    15 Laps
 7. LMP2 #36 Alpine    Chatin/Panciatici/Webb              247  +  1m58.932s
 8. LMP2 #46 Ligier    Thiriet/Badey/Gommendy              246  +    16 Laps
 9. LMP1 #12 Rebellion Prost/Heidfeld/Beche                246  +  2m29.117s
10. LMP2 #34 Oreca     Frey/Mailleux/Lancaster             245  +    17 Laps
11. LMP2 #38 Zytek     Dolan/Tincknell/Turvey              244  +    18 Laps
12. LMP2 #24 Oreca     Rast/Charouz/Capillaire             243  +    19 Laps
13. LMP2 #43 Morgan    Klien/Hirsch/Brandela               242  +    20 Laps
14. LMP2 #33 Ligier    Cheng/Tung/Fong                     239  +    23 Laps
15. LMP2 #42 Zytek     Kimber-Smith/McMurry/Dyson          237  +    25 Laps
16. GTEP #51 Ferrari   Bruni/Vilander/Fisichella           235  +    27 Laps
17. GTEP #97 Aston     Turner/Mucke/Senna                  235  +     7.800s
18. LMP2 #29 Morgan    Schell/Leutwiller/Roussel           234  +    28 Laps
19. GTEP #92 Porsche   Holzer/Makowiecki/Lietz             233  +    29 Laps
20. LMP2 #50 Morgan    Ragues/Taylor/Ihara                 233  +  2m21.120s
21. GTEP #73 Chevrolet Magnussen/Garcia/Taylor             232  +    30 Laps
22. LMP2 #27 Oreca     Zlobin/Salo/Ladygin                 232  +    57.455s
23. GTEA #95 Aston     Poulsen/Heinemeier-Hansson/Thiim    232  +  3m39.582s
24. GTEA #88 Porsche   Ried/Bachler/Al Qubaisi             229  +    33 Laps
25. GTEA #61 Ferrari   Perez-Companc/Cioci/Venturi         228  +    34 Laps
26. GTEA #90 Ferrari   Montecalvo/Roda/Ruberti             228  +  1m25.549s
27. GTEP #74 Chevrolet Gavin/Milner/Westbrook              227  +    35 Laps
28. GTEA #57 Ferrari   Krohn/Jonsson/Collins               227  +    23.304s
29. GTEA #77 Porsche   Dempsey/Foster/Long                 227  +    35.534s
30. GTEA #70 Ferrari   Nakano/Ehret/Rich                   226  +    36 Laps
31. GTEA #66 Ferrari   Al Faisal/Neiman/Pumpelly           225  +    37 Laps
32. GTEA #58 Ferrari   Barthez/Pons/Ayari                  225  +  2m59.797s
33. GTEA #76 Porsche   Narac/Armindo/Hallyday              224  +    38 Laps
34. GTEA #98 Aston     Dalla Lana/Lamy/Nygaard             224  +  1m45.237s
35. GTEP #79 Porsche   MacNeil/Curtis/Bleekemolen          219  +    43 Laps
36. GTEA #67 Porsche   Maris/Merlin/Helary                 218  +    44 Laps
37. GTEA #53 Ferrari   Mowlem/Patterson/Hamilton           217  +    45 Laps
38. GTEP #91 Porsche   Pilet/Bergmeister/Tandy             205  +    57 Laps
39. GTEA #62 Ferrari   Mallegol/Bachelier/Blank            198  +    64 Laps
40. GTEA #75 Porsche   Perrodo/Collard/Palttala            192  +    70 Laps
41. LMP1 #7  Toyota    Wurz/Sarrazin/Nakajima              219  Retired
42. GTEA #72 Ferrari   Bertolini/Shaitar/Basov             196  Retired
43. GTEP #52 Ferrari   Griffin/Parente/Leo                 140  Retired
44. LMP2 #26 Morgan    Rusinov/Pla/Canal                   120  Retired
45. GTEA #60 Ferrari   Mann/Case/Giammaria                 115  Retired
46. LMP2 #47 Oreca     Howson/Bradley/Imperatori           87   Retired
47. LMP1 #13 Rebellion Kraihamer/Belicchi/Leimer           73   Retired
48. LMP2 #48 Oreca     Berthon/Gonzalez/Chandhok           73   Retired
49. LMP2 #41 Zytek     Munemman/Latif/Winslow              31   Retired
50. GTEP #71 Ferrari   Rigon/Kaffer/Beretta                28   Retired
51. LMP1 #3  Audi      Albuquerque/Bonanomi/Jarvis         25   Retired
52. GTEA #81 Ferrari   Wyatt/Rugolo/Bird                   22   Retired
53. LMP2 #37 Oreca     Ladygin/Minassian/Mediani           9    Retired
54. CDNT #0  Nissan    Ordonez/Reip/Motoyama               5    Retired