Le Mans 24 Hours: #7 Toyota in control ahead of Audi - hour 8
| | |
| --- | --- |
| | Saturday, June 14th 2014, 21:02 GMT |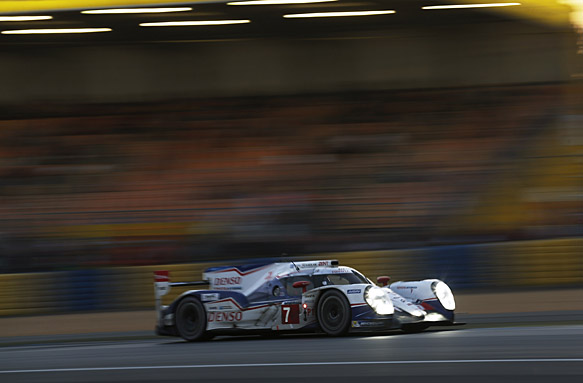 Kazuki Nakajima extended Toyota's lead of the Le Mans 24 Hours over the chasing Audi through the eighth hour.

Nakajima gained a dozen or so seconds aboard the #7 Toyota TS040 HYBRID to go 1m57s clear of the Audi R18 e-tron quattro of Marcel Fassler

Marc Gene in third place held the gap to team-mate Fassler stationary at around 1m16s, while Mark Webber, a lap down in fourth, continued to lose ground in the Porsche 919 Hybrid.

The delayed #8 Toyota moved up to seventh place ahead of the LMP2 leaders over the course of the hour.
Jann Mardenborough continues to lead LMP2 in the G-Drive-branded OAK Ligier JSP2.
He leads the TDS Racing-run example of Tristan Gommendy by just over a minute, with Frank Mailleux a further 40 seconds back in the #34 Race Performance ORECA-Judd/BMW.
The #47 KCMG ORECA has been officially retired following Alexander Imperatori's earlier crash on the run out of the Porsche Curves, while the #48 Murphy Prototypes ORECA is again in trouble after stopping on track with a steering problem.
Aston Martin consolidated its lead at the top of the GTE classes, as Vantages continued to dominate each of the Pro and Am divisions.
Darren Turner dropped behind the AF Corse Ferrari of Giancarlo Fisichella early into the eighth hour but took the class lead back with a classy move into the first Mulsanne chicane.
The Briton then extended his advantage as Fisichella struggled with his 458 Italia's handling on the second stint of one set of tyres, before the Italian moved aside for compatriot Gianmaria Bruni.
That pitstop elevated Oliver Gavin and Corvette back into second, having dropped to third when the C7.R was fitted with new tyres when Richard Westbrook was replaced by his fellow Briton.
The Am-class Vantages continued to control the fourth division, with Pedro Lamy in control ahead of Nicki Thiim. Andrea Bertolini is third as the SMP Ferrari 458 Italia continues to pose the biggest threat to the Astons' dominance.
POSITIONS AFTER 8 HOURS

Pos Cl       Car       Drivers                              Laps  Gap
 1. LMP1 #7  Toyota    Wurz/Sarrazin/Nakajima               119  
 2. LMP1 #2  Audi      Fassler/Lotterer/Treluyer            119  +  1m58.899s
 3. LMP1 #1  Audi      Di Grassi/Gene/Kristensen            118  +      1 Lap
 4. LMP1 #20 Porsche   Bernhard/Webber/Hartley              117  +     2 Laps
 5. LMP1 #12 Rebellion Prost/Heidfeld/Beche                 114  +     5 Laps
 6. LMP1 #14 Porsche   Dumas/Jani/Lieb                      114  +    10.108s
 7. LMP1 #8  Toyota    Davidson/Lapierre/Buemi              110  +     9 Laps
 8. LMP2 #35 Ligier    Brundle/Mardenborough/Shulzhitskiy   110  +     7.150s
 9. LMP2 #46 Ligier    Thiriet/Badey/Gommendy               110  +  1m11.487s
10. LMP2 #34 Oreca     Frey/Mailleux/Lancaster              110  +  1m45.451s
11. LMP2 #36 Alpine    Chatin/Panciatici/Webb               110  +  2m00.205s
12. LMP2 #26 Morgan    Rusinov/Pla/Canal                    109  +    10 Laps
13. LMP2 #38 Zytek     Dolan/Tincknell/Turvey               109  +  2m42.828s
14. LMP2 #24 Oreca     Rast/Charouz/Capillaire              109  +  3m02.054s
15. LMP2 #43 Morgan    Klien/Hirsch/Brandela                108  +    11 Laps
16. LMP2 #33 Ligier    Cheng/Tung/Fong                      107  +    12 Laps
17. LMP2 #50 Morgan    Ragues/Taylor/Ihara                  106  +    13 Laps
18. GTEP #97 Aston     Turner/Mucke/Senna                   105  +    14 Laps
19. GTEP #74 Chevrolet Gavin/Milner/Westbrook               105  +    17.181s
20. GTEP #51 Ferrari   Bruni/Vilander/Fisichella            105  +    19.522s
21. GTEP #92 Porsche   Holzer/Makowiecki/Lietz              105  +  2m00.203s
22. GTEP #91 Porsche   Pilet/Bergmeister/Tandy              104  +    15 Laps
23. GTEA #98 Aston     Dalla Lana/Lamy/Nygaard              104  +  1m02.917s
24. GTEP #73 Chevrolet Magnussen/Garcia/Taylor              104  +  3m55.983s
25. GTEA #95 Aston     Poulsen/Heinemeier-Hansson/Thiim     104  +  3m57.058s
26. GTEA #72 Ferrari   Bertolini/Shaitar/Basov              103  +    16 Laps
27. LMP2 #29 Morgan    Schell/Leutwiller/Roussel            103  +    17.821s
28. GTEA #88 Porsche   Ried/Bachler/Al Qubaisi              103  +  2m07.350s
29. GTEA #61 Ferrari   Perez-Companc/Cioci/Venturi          102  +    17 Laps
30. GTEA #77 Porsche   Dempsey/Foster/Long                  102  +    19.768s
31. GTEA #90 Ferrari   Montecalvo/Roda/Ruberti              102  +    53.029s
32. LMP2 #42 Zytek     Kimber-Smith/McMurry/Dyson           102  +  1m24.054s
33. GTEA #57 Ferrari   Krohn/Jonsson/Collins                102  +  3m19.865s
34. GTEA #70 Ferrari   Nakano/Ehret/Rich                    101  +    18 Laps
35. GTEA #67 Porsche   Maris/Merlin/Helary                  101  +  2m00.371s
36. GTEA #60 Ferrari   Mann/Case/Giammaria                  101  +  2m25.512s
37. GTEA #75 Porsche   Perrodo/Collard/Palttala             101  +  3m10.764s
38. GTEA #58 Ferrari   Barthez/Pons/Ayari                   101  +  3m15.421s
39. GTEA #66 Ferrari   Al Faisal/Neiman/Pumpelly            99   +    20 Laps
40. LMP2 #27 Oreca     Zlobin/Salo/Ladygin                  99   +  1m02.520s
41. GTEA #76 Porsche   Narac/Armindo/Hallyday               99   +  1m15.411s
42. GTEP #79 Porsche   MacNeil/Curtis/Bleekemolen           96   +    23 Laps
43. GTEA #62 Ferrari   Mallegol/Bachelier/Blank             96   +  1m07.892s
44. GTEA #53 Ferrari   Mowlem/Patterson/Hamilton            90   +    29 Laps
45. GTEP #52 Ferrari   Griffin/Parente/Leo                  84   +    35 Laps
46. LMP2 #48 Oreca     Berthon/Gonzalez/Chandhok            73   +    46 Laps
47. LMP2 #47 Oreca     Howson/Bradley/Imperatori            87   Retired
48. LMP1 #13 Rebellion Kraihamer/Belicchi/Leimer            73   Retired
49. LMP2 #41 Zytek     Munemman/Latif/Winslow               31   Retired
50. GTEP #71 Ferrari   Rigon/Kaffer/Beretta                 28   Retired
51. LMP1 #3  Audi      Albuquerque/Bonanomi/Jarvis          25   Retired
52. GTEA #81 Ferrari   Wyatt/Rugolo/Bird                    22   Retired
53. LMP2 #37 Oreca     Ladygin/Minassian/Mediani            9    Retired
54. CDNT #0  Nissan    Ordonez/Reip/Motoyama                5    Retired