Le Mans 24 Hours: Porsche 919 moves into lead in hour three
| | |
| --- | --- |
| | Saturday, June 14th 2014, 16:09 GMT |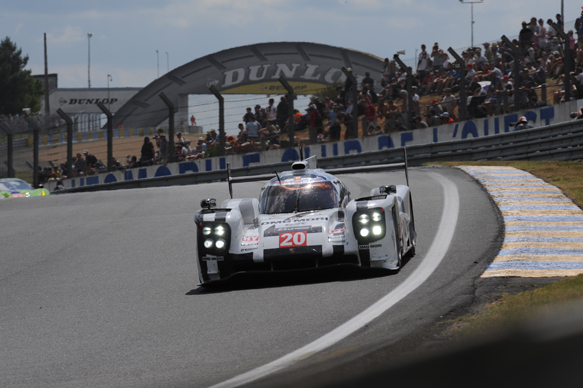 The #20 Porsche 919 took the lead of the Le Mans 24 Hours in the third hour of the race, as another rain storm caused a second safety car period.
Alexander Wurz had the race under control in the #7 Toyota, leading the #2 Audi of Andre Lotterer by around 1m30s, before another heavy rain shower prompted race officials to send the safety cars out.
Wurz had to pit - and hand over to Stephane Sarrazin - during that break, and the fact the #2 Audi also came in (with Benoit Treluyer taking over) allowed Timo Bernhard to take the lead in the #20 Porsche.
Bernhard then proceeded to pull away from Sarrazin in wet conditions as the hour drew to a close, while the Audis of Treluyer and Tom Kristensen remained on the lead lap.
The #8 Toyota - crashed by Nicolas Lapierre in the second hour - rejoined the race in the hands of Sebastien Buemi after spending 49 minutes in the pits, and is now running eight laps down.

Follow the entire 2014 Le Mans 24 Hours on AUTOSPORT Live
The #34 Race Performance ORECA continues to lead LMP2 in the hands of Franck Mailleux.
He has an advantage of almost a minute and a half over the #36 Signatech Alpine ORECA of Paul-Loup Chatin.
Karun Chandhok, driving the #48 Murphy ORECA, had a coming together with the #41 Greaves Zytek of Michael Munemann on the Mulsanne Straight during the short green flag period between safety cars after aquaplaning.
Both suffered damage and are in the pits, with the Murphy car needing front end and floor repairs.
Richard Bradley, driving the #47 KCMG ORECA that led early on, also hit trouble, suffering a spin at the Porsche Curves while being lapped by Kristensen's Audi. He recovered and runs 10th.
PORSCHE ALSO LEADS IN GTE
Porsche leapt into a GTE one-two with Marco Holzer and Jorg Bergmeister passing erstwhile GTE Am leader Patrick Long for the overall GTE lead right at the end of the hour.
Long, who took the class lead when Sam Bird crashed in hour two, had moved to the head of the GTE group when Tommy Milner's Corvette and Bergmeister stopped in the pits.
After that Holzer - whose co-driver Patrick Pilet had a minor involvement in the crash between the #3 Audi and #8 Toyota - blasted past Long, who was 30s off the pace on slick tyres with the track still damp.
Long then dropped like a stone, falling behind Milner and also losing the Am class lead to Pedro Lamy's Aston Martin Vantage.
POSITIONS AFTER 3 HOURS

Pos Cl       Car       Drivers                              Laps  Gap
 1. LMP1 #20 Porsche   Bernhard/Webber/Hartley              40  
 2. LMP1 #7  Toyota    Wurz/Sarrazin/Nakajima               40  +     6.670s
 3. LMP1 #2  Audi      Fassler/Lotterer/Treluyer            39  +      1 Lap
 4. LMP1 #1  Audi      Di Grassi/Gene/Kristensen            39  +    58.440s
 5. LMP1 #12 Rebellion Prost/Heidfeld/Beche                 38  +     2 Laps
 6. LMP2 #34 Oreca     Frey/Mailleux/Lancaster              37  +     3 Laps
 7. LMP2 #36 Alpine    Chatin/Panciatici/Webb               37  +  1m08.914s
 8. LMP2 #43 Morgan    Klien/Hirsch/Brandela                37  +  1m17.339s
 9. LMP2 #35 Ligier    Brundle/Mardenborough/Shulzhitskiy   37  +  1m19.457s
10. LMP2 #46 Ligier    Thiriet/Badey/Gommendy               37  +  1m41.870s
11. LMP1 #13 Rebellion Kraihamer/Belicchi/Leimer            37  +  1m42.763s
12. LMP2 #33 Ligier    Cheng/Tung/Fong                      36  +     4 Laps
13. LMP2 #26 Morgan    Rusinov/Pla/Canal                    36  +  1m36.667s
14. LMP2 #24 Oreca     Rast/Charouz/Capillaire              36  +  2m45.799s
15. LMP2 #47 Oreca     Howson/Bradley/Imperatori            36  +  3m05.401s
16. LMP2 #38 Zytek     Dolan/Tincknell/Turvey               36  +  3m10.081s
17. GTEP #92 Porsche   Holzer/Makowiecki/Lietz              35  +     5 Laps
18. GTEP #91 Porsche   Pilet/Bergmeister/Tandy              35  +     1.330s
19. GTEA #98 Aston     Dalla Lana/Lamy/Nygaard              35  +    24.483s
20. GTEA #77 Porsche   Dempsey/Foster/Long                  35  +    25.127s
21. GTEP #74 Chevrolet Gavin/Milner/Westbrook               35  +    25.210s
22. LMP2 #50 Morgan    Ragues/Taylor/Ihara                  35  +    46.711s
23. GTEP #51 Ferrari   Bruni/Vilander/Fisichella            35  +  1m02.010s
24. LMP2 #42 Zytek     Kimber-Smith/McMurry/Dyson           35  +  1m09.288s
25. GTEP #97 Aston     Turner/Mucke/Senna                   35  +  1m14.097s
26. LMP1 #14 Porsche   Dumas/Jani/Lieb                      35  +  1m22.389s
27. GTEP #73 Chevrolet Magnussen/Garcia/Taylor              35  +  1m34.511s
28. GTEA #53 Ferrari   Mowlem/Patterson/Hamilton            35  +  1m37.855s
29. LMP2 #29 Morgan    Schell/Leutwiller/Roussel            35  +  1m56.203s
30. GTEA #95 Aston     Poulsen/Heinemeier-Hansson/Thiim     35  +  3m03.976s
31. GTEA #72 Ferrari   Bertolini/Shaitar/Basov              35  +  3m14.535s
32. GTEA #67 Porsche   Maris/Merlin/Helary                  35  +  3m15.761s
33. GTEA #88 Porsche   Ried/Bachler/Al Qubaisi              34  +     6 Laps
34. GTEA #57 Ferrari   Krohn/Jonsson/Collins                34  +    15.349s
35. GTEA #60 Ferrari   Mann/Case/Giammaria                  34  +  1m28.396s
36. GTEA #90 Ferrari   Montecalvo/Roda/Ruberti              34  +  1m28.894s
37. GTEA #70 Ferrari   Nakano/Ehret/Rich                    34  +  1m29.202s
38. GTEA #58 Ferrari   Barthez/Pons/Ayari                   34  +  2m05.274s
39. GTEA #75 Porsche   Perrodo/Collard/Palttala             34  +  2m17.123s
40. GTEP #52 Ferrari   Griffin/Parente/Leo                  34  +  2m34.018s
41. GTEA #61 Ferrari   Perez-Companc/Cioci/Venturi          34  +  2m47.589s
42. GTEA #66 Ferrari   Al Faisal/Neiman/Pumpelly            34  +  2m53.862s
43. LMP2 #48 Oreca     Berthon/Gonzalez/Chandhok            32  +     8 Laps
44. GTEP #79 Porsche   MacNeil/Curtis/Bleekemolen           32  +  25m57.608s
45. GTEA #62 Ferrari   Mallegol/Bachelier/Blank             32  +  26m14.046s
46. LMP2 #41 Zytek     Munemman/Latif/Winslow               31  +     9 Laps
47. LMP1 #8  Toyota    Davidson/Lapierre/Buemi              31  +  23m17.300s
48. GTEA #76 Porsche   Narac/Armindo/Hallyday               31  +  26m06.807s
49. LMP2 #27 Oreca     Zlobin/Salo/Ladygin                  30  +    10 Laps
50. GTEP #71 Ferrari   Rigon/Kaffer/Beretta                 28  Retired
51. LMP1 #3  Audi      Albuquerque/Bonanomi/Jarvis          25  Retired
52. GTEA #81 Ferrari   Wyatt/Rugolo/Bird                    22  Retired
53. LMP2 #37 Oreca     Ladygin/Minassian/Mediani            9   Retired
54. CDNT #0  Nissan    Ordonez/Reip/Motoyama                5   Retired