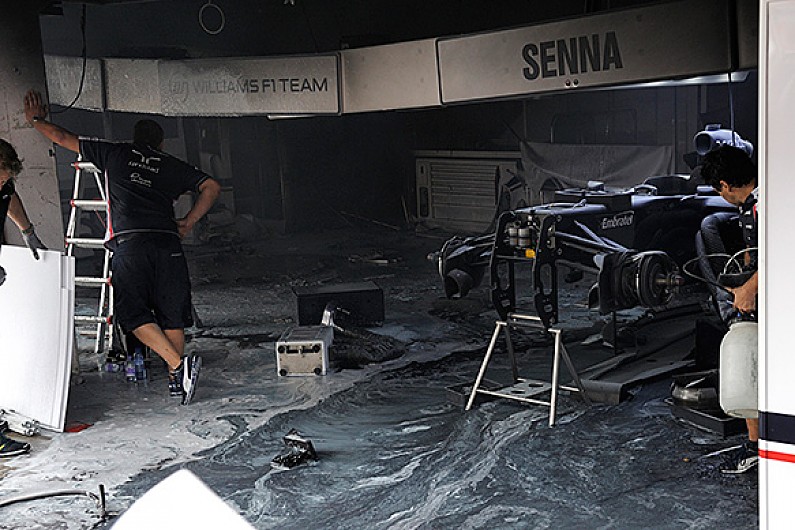 Formula 1 is set to introduce a new fire safety system that will prevent a repeat of the kind of fuel blaze that hit Williams in 2012, AUTOSPORT can reveal.
Motor racing's governing body, the FIA, has been working closely with an American company, the Oscar Nelson Group, to bring in a new decking system called MADMAT that will be a big boost to safety.

Analysis: MADMAT a no-brainer for F1
The MADMAT design, which was originally created for military use to help with fuel fires on aircraft carriers, is laid under areas where fuel can get spilled.
It helps suffocate flames, reduce temperature and minimise smoke in the event of a spillage getting ignited.
The idea of bringing MADMAT to F1 was first suggested to the FIA after several Williams mechanics were injured in a fire inside the team's garage after the 2012 Spanish Grand Prix.
The system has had to be adapted for petrol use, but following a successful demonstration in front of teams and F1 race director Charlie Whiting at this year's Spanish Grand Prix, a final version is close to being given the green light to go into production.
Whiting told AUTOSPORT: "If you had it within the garage areas of teams where they store their fuel, like Williams had [in 2012], it simply would not have burned like that.
"The teams are all quite keen on this, extremely keen on it, and the possibilities are quite endless because it is good not only for F1
"We could make it mandatory, although we are not sure if we will yet or not, but I think the teams are keen enough to do it anyway."
Whiting suggests that MADMAT could transform garage safety at all levels of motor racing - and there would be no reason why circuits could not incorporate it themselves.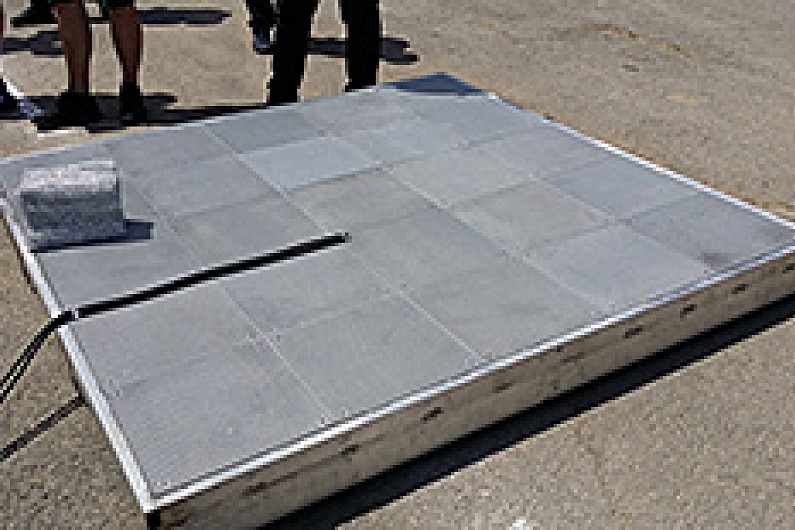 "It has massive possibilities for motor racing," he said. "If F1 adopts it, then I think it is a very good sign - as there is no reason why it could not filter down."
DESIGN DEVELOPMENT IN FINAL STAGES
Dan Dragoi from the Oscar Nelson Group, who is leading work on MADMAT, said that efforts to make the system suitable for F1 had been ongoing ever since the 2012 Williams fire.
"Charlie challenged us to create a test fixture to demonstrate to F1 teams, and he put everything together on his side," he explained.
"We developed the test feature, improved the product, and what we showed in Spain this year is where we are at right now - but it is developing as we speak."
Dragoi says the focus of work is on creating a modular system that will allow MADMAT to fit in to different garage configurations, as well as be easy to transport around the world.
It is hoped that this will be sorted within a matter of weeks - and once F1 efforts have been complete then other categories could follow.
"All series would benefit from this system," added Dragoi. "We are only focused on F1 right now, but we are starting to open discussions with IndyCar and NASCAR. There are so many series out there that could benefit from this."
HOW MADMAT WORKS
By Craig Scarborough, AUTOSPORT's technical expert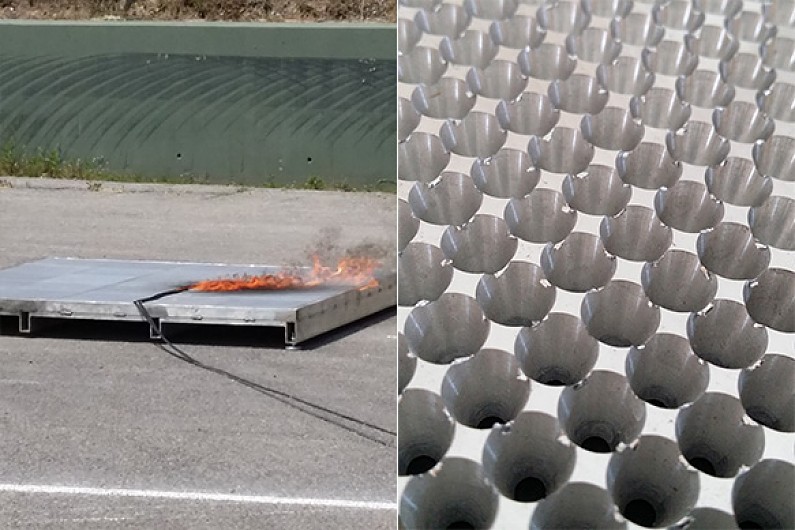 The MADMAT floor system is made up of a number of layered tiles.
A floor panel that sits atop a pan has a series of diverging holes made into its surface.
With the smaller diameter opening on the floor surface, the holes encourage fuel to flow into the pan, rather than sit on top of the floor.
The fuel is retained within the pan, so it doesn't spread across the garage floor.
Inside the pan, wadding reduces the risk of the fuel vapour rising up through the floor panel. Then the holes in the floor panel further minimise fuel vapour escaping and reigniting.
In the event of the fuel being ignited, the MADMAT system results in flames that are smaller and cooler.
The temperature of a fire is also reduced from the usual 315C to just 93C.
More importantly, there is also little or no smoke when MADMAT is used, which means dealing with any fire is much easier.
This pre-fabricated MADMAT floor panels are likely to be used in the area where fuel is decanted from the large 200-litre drums in the back of the garage into the fuel trolley.
This is where there's the greatest risk of large spills and is where the Williams fire started back in 2012.
This floor panel could either be provided by a circuit or brought to each race by a team.
New season.
New rules.
New cars.
New drivers.
Get ready for an F1 season like no other with unlimited access to the world's best motorsport journalism.
Get 10 free extra stories
Upgrade for free - and boost your monthly news limit instantly.
Register for free
Expert opinion.
Technical insight.
Unbeatable analysis.