Le Mans 24 Hours: Nissan ZEOD won't try electric lap in qualifying
| | |
| --- | --- |
| By Gary Watkins | Thursday, June 12th 2014, 16:51 GMT |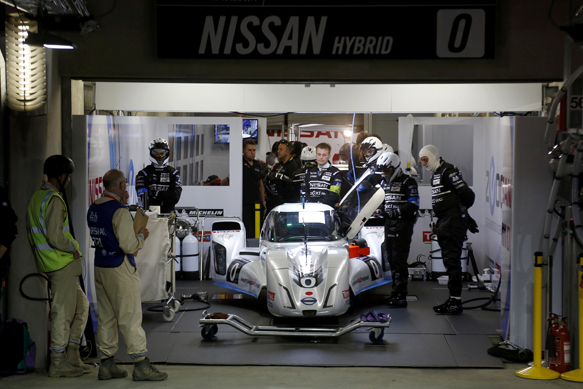 Nissan will not attempt an all-electric lap of Le Mans with its experimental ZEOD RC racer before the 24 Hours starts on Saturday.
The Japanese manufacturer has so far been prevented from trying to complete a lap of the 8.47-mile Circuit de la Sarthe on battery power at either the test day on June 1 or during practice and qualifying on Wednesday.
Fuel pump and exhaust manifold issues limited the petrol-electric hybrid to 24 laps at the test, before an input shaft failure in practice and then three red flags in qualifying prevented the car from completing any laps.
The lack of running means Nissan and technical partner RML are behind in their programme and will only run segments of the lap without the car's three-cylinder petrol turbo engine engaged during Thursday night's pair of two-hour qualifying sessions.
Nissan global motorsport boss Darren Cox told AUTOSPORT: "We won't go for a full lap tonight, but we will be doing big portions of the lap on electric power."
The ZEOD has run for more than 8.5 miles with its three-cylinder petrol turbo engine switched off during testing, however.
It ran for 11.9 miles around the Bruntingthorpe proving ground in Leicestershire the week after the test day.
But Cox stressed that was no guarantee that the ZEOD petrol-electric hybrid would achieve its target of an all-electric lap during the race.
"That's 19km around a much slower circuits; here we have much longer straights that sap the power," he said.
"We need to know how far to push the battery without damaging it - it is like over-revving a conventional engine.
"We have to build up to it slowly and that's why we will only be doing portions of the circuit on electric power tonight."
Nissan has a series of targets for the ZEOD, which is driven by Lucas Ordonez, Wolfgang Reip and Satoshi Motoyama: a lap at GTE Am pace and a 300km/h (186.4mph) top speed on the Mulsanne Straight on battery power, and a petrol lap at LMP2 pace.
Follow Le Mans 24 Hours qualifying as it happens with AUTOSPORT Live