Oulton Park BTCC: Colin Turkington takes pole for WSR BMW in wet
| | |
| --- | --- |
| By Kevin Turner | Saturday, June 7th 2014, 15:25 GMT |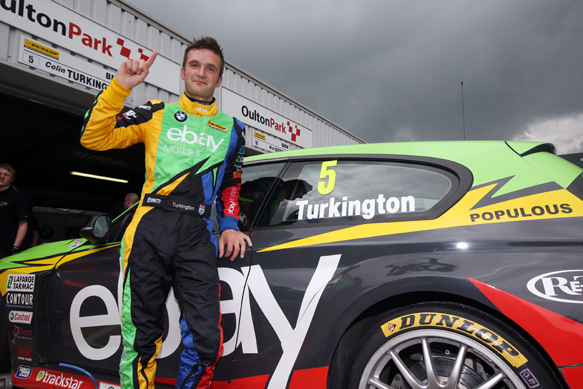 Colin Turkington qualified on pole for the British Touring Car Championship round at Oulton Park after a dramatic session.
On a drying track, the times tumbled throughout and Jason Plato's Triple Eight MG6 led the way for most of the 30 minutes, each time going faster before the chasing pack could usurp him.
Despite losing his best lap due to a track limits infringement, Plato headed team-mate Sam Tordoff when Adam Morgan crashed his Ciceley Mercedes at Druids and brought out the red flags.
But when the session resumed, with 10 minutes to go, Turkington's WSR BMW came to the fore.
First he recorded a time of 1m42.778s, then 1m42.310s to secure his first pole of 2014.
That means Alain Menu's qualifying record of 1m41.93s, set in 1994 in a Super Touring Renault Laguna, still stands.
Plato responded in the closing moments with a 1m42.959s, within a few thousandths of his previous disallowed time, but had to settle for second.
A crash for Jack Clarke's Motorbase Ford Focus at Druids then brought the session to a close in the final scheduled minute.
Gordon Shedden was one of many late improvers, taking third with 1m43.140s, while Rob Collard made it two WSR BMWs in the top four.
Tordoff failed to improve in the final 10 minutes and thus slipped to fifth, and Rob Austin (Audi A4) managed a 1m43.632s to take sixth.
Having struggled just inside the top 20 early on, Tom Ingram qualified ninth in his Speedworks Toyota Avensis with a late charge, just behind the third MG of Marc Hynes.
Aron Smith's BMR VW Passat failed the ride-height test in the first half of the session, but recovered to 11th.
Several big names had difficult sessions. Championship leader Andrew Jordan failed to improve in the final 10 minutes and fell from sixth to 13th.
Matt Neal did improve, but only made it to 14th, one slot ahead of Menu's BMR Passat.
Pos  Driver               Team/Car           Time       Gap
 1.  Colin Turkington     WSR BMW            1m42.310s
 2.  Jason Plato          MG                 1m42.959s  +0.649s
 3.  Gordon Shedden       Honda              1m43.140s  +0.830s
 4.  Rob Collard          WSR BMW            1m43.459s  +1.149s
 5.  Sam Tordoff          MG                 1m43.493s  +1.183s
 6.  Rob Austin           RAR Audi           1m43.632s  +1.322s
 7.  Mat Jackson          Motorbase Ford     1m43.690s  +1.380s
 8.  Marc Hynes           MG                 1m43.848s  +1.538s
 9.  Tom Ingram           Speedworks Toyota  1m43.853s  +1.543s
10.  Nick Foster          WSR BMW            1m43.863s  +1.553s
11.  Aron Smith           BMR VW             1m43.906s  +1.596s
12.  Fabrizio Giovanardi  Motorbase Ford     1m44.067s  +1.757s
13.  Andrew Jordan        Eurotech Honda     1m44.250s  +1.940s
14.  Matt Neal            Honda              1m44.269s  +1.959s
15.  Alain Menu           BMR VW             1m44.294s  +1.984s
16.  Dave Newsham         AmD Ford           1m44.420s  +2.110s
17.  Jack Goff            BMR Vauxhall       1m44.488s  +2.178s
18.  James Cole           UA Toyota          1m44.533s  +2.223s
19.  Aiden Moffat         Moffat Chevrolet   1m44.546s  +2.236s
20.  Glynn Geddie         UA Toyota          1m44.602s  +2.292s
21.  Warren Scott         BMR Vauxhall       1m44.708s  +2.398s
22.  Jack Clarke          Motorbase Ford     1m44.754s  +2.444s
23.  Lea Wood             Houseman Toyota    1m45.881s  +3.571s
24.  Hunter Abbott        RAR Audi           1m45.907s  +3.597s
25.  Adam Morgan          Ciceley Mercedes   1m46.373s  +4.063s
26.  Martin Depper        Eurotech Honda     1m47.038s  +4.728s
27.  Robb Holland         Rotek Audi         1m48.279s  +5.969s
28.  Daniel Welch         Welch Proton       1m49.851s  +7.541s
29.  Chris Stockton       BTC Chevrolet      1m53.509s  +11.199s
30.  Simon Belcher        Handy Toyota       1m57.128s  +14.818s
31.  Ollie Jackson        Welch Proton       2m14.913s  +32.603s