Kamui Kobayashi says he will be more aggressive with F1 rivals
| | |
| --- | --- |
| By Jonathan Noble | Friday, June 6th 2014, 15:59 GMT |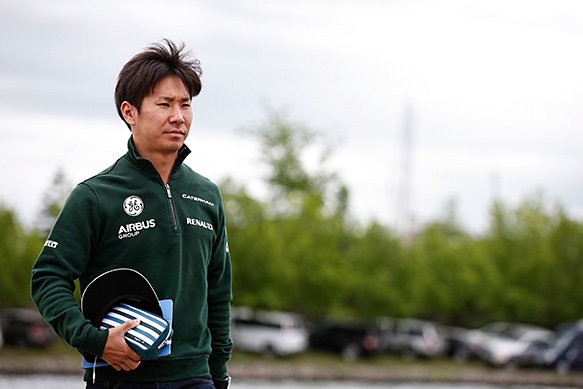 Kamui Kobayashi says he will be more aggressive in battles with Formula 1 rival Marussia from now on, after being barged out of the way by Jules Bianchi in Monaco.
The Japanese believes that he could have finished ahead of Bianchi at Monte Carlo a fortnight ago if he had not suffered car damage in a clash with the Frenchman at Rascasse.
With race stewards having deemed that Bianchi did nothing wrong in his move, Kobayashi has said it is time for him to adjust to how he deals with racing his team's main rivals.
"I think everyone saw it - and if I had done exactly the same thing to Lewis [Hamilton] for example, then I definitely would have got penalised," Kobayashi told AUTOSPORT.
"So there are a lot of different things.
"And for me it is really unclear because when he dived into my car, he was behind half of my car and he just pushed me out.
"We came side-by-side, he pushed me again and had no space. So if that is allowed then I know what I need to do next - because I was trying to be fair."
Kobayashi revealed that as well as the incident causing damage to his aerodynamics, broken suspension made things very tricky for him afterwards.
"One [suspension] arm was disconnected so when I braked I could not go straight, and on the straights I could not go straight," he said.
"It was a dangerous moment."
CRAZY RACES BEST HOPE FOR CATERHAM
Bianchi's ninth-place finish in Monaco has boosted Marussia's chances of landing a lucrative prize money boost at the end of the season, which could also cost Caterham.
But Kobayashi believes the fight to finish 10th this year is not over yet and that points could come his team's way.
"I think if there are some crazy races it is possible, because I think most of the time we are ahead of them," he said.
"Of course I think they improve a lot. They do a really good job in Spain and in Monaco as well, but in the race we could fight still with them. So there is still a chance."