Detroit USC: Ricky and Jordan Taylor win in wild last-lap battle
| | |
| --- | --- |
| By Mark Glendenning | Saturday, May 31st 2014, 18:16 GMT |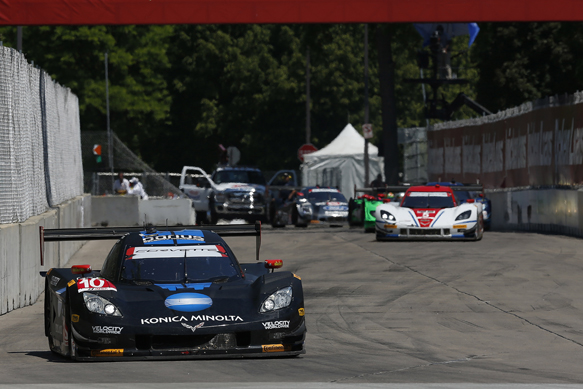 Ricky and Jordan Taylor survived a wild finish to win the United SportsCar race on the streets of Detroit's Belle Isle.
The Wayne Taylor Racing pair narrowly beat Spirit of Daytona's Richard Westbrook and Michael Valiante for a Corvette DP 1-2 on home soil.
Until the final lap it was shaping up to be a Corvette 1-2-3 and Westbrook was not in the picture at all.
Taylor was leading Joao Barbosa, but what had been a three-second lead a few laps earlier had been whittled down to nothing, and Barbosa appeared to still have enough tyres left to cause Taylor some problems.
A look to the outside with two laps to go amounted to little more than a near-miss with the wall, but the next time around he made the same move, following it up by ducking to Taylor's inside at Turn 3.
This time he got a run, and the pair made contact as they headed towards Turn 4 before Barbosa shook his rival off.
At first glance it appeared that Taylor had come off the worse, however that illusion was shattered when Barbosa's left-rear tyre exploded a couple of corners later.
Taylor swept back into the lead, but in the chaos Westbrook had closed in and was right on his tail. Taylor managed to keep him at bay for the final couple of corners, but he will be grateful that the race was not one lap longer.
Barbosa made no effort to hide his feelings.
"I'm very disappointed," he said. "We had a strong car and the car was very good. I tried to go by Ricky and he tried to put me into the wall. The next time it's going to be him."
Oliver Pla was third, albeit some distance back, in the OAK Morgan that he shared with Gustavo Yacaman, who won at this track two years ago in Indy Lights.
The fight for GTD class honours was no less fraught, with a series of minor incidents culminating in a last-lap fracas in which frontrunner Spencer Pumpelly was knocked off the track while fighting Townsend Bell.
The class win went to Scuderia Corsa Ferrari duo Alessandro Balzan and Jeff Westphal.
Leading results - 57 laps:

Pos  Cl   Drivers             Team/Car                        Time/Gap
 1.  P    Taylor/Taylor       Taylor Corvette DP          1h40m26.112s
 2.  P    Westbrook/Valiante  SDR Corvette DP                  +0.207s
 3.  P    Yacaman/Pla         OAK Morgan-Nissan                +8.817s
 4.  P    Pew/Negri           MSR Riley-Ford                   +9.713s
 5.  P    Sharp/Dalziel       Extreme Speed HPD               +17.718s
 6.  P    Barbosa/Fittipaldi  Action Express Corvette DP      +33.286s
 7.  P    Brown/van Overbeek  Extreme Speed HPD                 -1 lap
 8.  GTD  Balzan/Westphal     Corsa Ferrari                     -1 lap
 9.  GTD  James/Farnbacher    Alex Job Porsche                  -1 lap
10.  GTD  Haase/Miller        Miller Audi                       -1 lap