Monaco GP: Fernando Alonso's Ferrari had ERS, brake issues
| | |
| --- | --- |
| By Ben Anderson and Kevin Turner | Sunday, May 25th 2014, 18:02 GMT |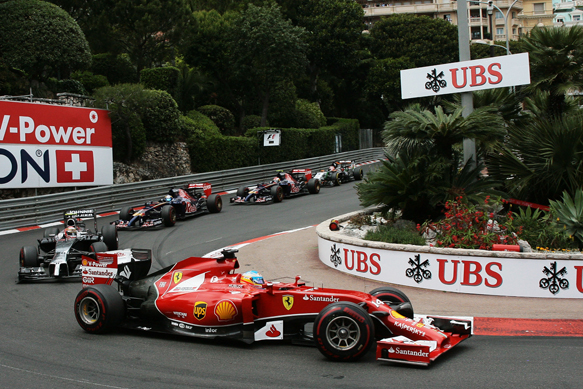 Fernando Alonso feared he could have been forced to retire from the Monaco Grand Prix on the first lap after an ERS problem with his Ferrari engine.
Alonso qualified fourth with what he described as his best lap of the year, but fell to sixth at the start of the race.
The Spaniard, who lies third in the Formula 1 drivers' championship, admitted his Ferrari lost power for the first few corners.
"The electric engine [ERS] didn't work so I didn't have the power going until Turn 3 [Casino Square]," said Alonso.
"I had a good jump, but I didn't have any more power to keep going.
"But the McLarens were fighting and also it is not completely straight so I was lucky that no one else overtook me.
"It was more stressful after Turn 1 [Sainte Devote]. Between Turn 1 and 3 I was very, very slow and I was a little bit worried I would have to retire after lap one. And then suddenly the electric motor started working."
Alonso conceded that, even if he had full power, he would probably have been boxed in on the run to Ste Devote.
"If I did have the power available I would have had to brake anyway because I didn't have the space," he added. "I tried to go to the left at one point but Kimi [Raikkonen] was doing a good start so it was not the place to go."
BRAKE PROBLEMS AT END
After problems for Ferrari team-mate Raikkonen and Sebastian Vettel, Alonso chased Daniel Ricciardo for third, but suffered brake issues in the closing stages.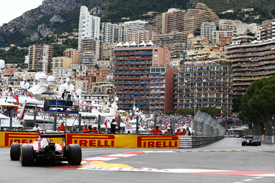 "At the end we had some brake problems," said Alonso.
"The car was braking with only right brakes so I had to hold the steering to the left.
"Once you are in that position you just try to bring the car safely home and get these points, but obviously we will try to do better next time."
Despite the issues, Alonso believes fourth was the best the F14 T could manage in Monaco.
"Fourth was the maximum," he said. "The top three showed their potential and that they were faster than me.
"I'm happy with the weekend in general. The race was difficult, it was tough, but I've got more points than I had yesterday."