Monaco FR3.5: Carlos Sainz Jr handed two-place grid penalty
| | |
| --- | --- |
| By Glenn Freeman | Saturday, May 24th 2014, 10:08 GMT |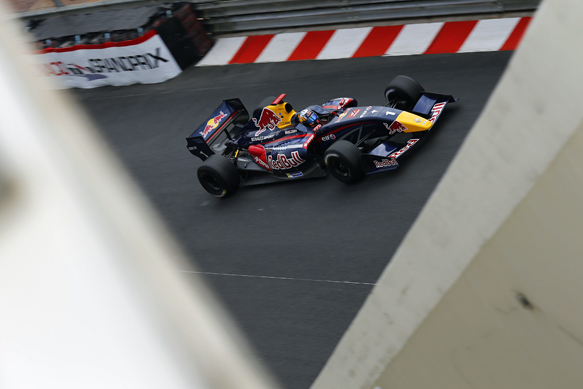 Formula Renault 3.5 championship leader Carlos Sainz Jr has been handed a two-place grid penalty for the Monaco Grand Prix support race for impeding another car during qualifying.
Race stewards deemed that Sainz had held up fellow Red Bull junior Pierre Gasly in the twisty section before the tunnel, so he has been moved from second on the grid to fourth.
Sainz argued that he had slowed because he was shown a yellow flag at Massenet following Roman Mavlanov hitting the wall, and he had maintained a reduced speed because white flags were indicating that there was a slow vehicle (the recovering Mavlanov) ahead.
However, the yellow flags had been removed by the time Gasly arrived at Massenet around six seconds later, so he had not been forced to abandon his lap.
"When you see a yellow flag in Monaco you don't know what is around the next corner," Sainz told AUTOSPORT.
"There could be a guy stopped there, so I really slowed down and I looked ahead to see what was going on.
"Only one car can get around those corners, and when I saw the white flags I decided to be safe and I caught him [Mavlanov] in the tunnel.
"I might have been cautious, but for three days we have been told in briefings to slow down and be prepared to stop in those situations.
"I'm penalised two grid positions, the penalty is like that and I just have to take it."
Revised grid positions:
                                                 
Pos Driver               Team       Time              
 1. Norman Nato          DAMS       1m23.209s  Group B
 2. Jazeman Jaafar       ISR        1m23.301s  Group B
 3. Marco Sorensen       Tech 1     1m24.262s  Group A
 4. Carlos Sainz         DAMS       1m23.873s  Group A
 5. Oliver Rowland       Fortec     1m23.666s  Group B
 6. Sergey Sirotkin      Fortec     1m24.675s  Group A
 7. Zoel Amberg          AVF        1m23.702s  Group B
 8. Pierre Gasly         Arden      1m24.828s  Group A
 9. Will Stevens         Strakka    1m23.924s  Group B
10. Roberto Merhi        Zeta       1m24.925s  Group A
11. Pietro Fantin        Draco      1m23.944s  Group B
12. Meindert van Buuren  Pons       1m25.107s  Group A
13. Marlon Stockinger    Lotus      1m24.328s  Group B
14. Roman Mavlanov       Zeta       1m25.714s  Group A
15. William Buller       Arden      1m24.365s  Group B
16. Matias Laine         Strakka    1m25.834s  Group A
17. Oliver Webb          Pons       1m24.776s  Group B
18. Matthieu Vaxiviere   Lotus      1m26.072s  Group A
19. Beitske Visser       AVF        1m25.469s  Group B
20. Luca Ghiotto         Draco      1m26.153s  Group A
21. Andrea Roda          Comtec     1m29.698s  Group A