Indianapolis 500: Josef Newgarden tops Monday practice
| | |
| --- | --- |
| By Mark Glendenning | Tuesday, May 20th 2014, 08:27 GMT |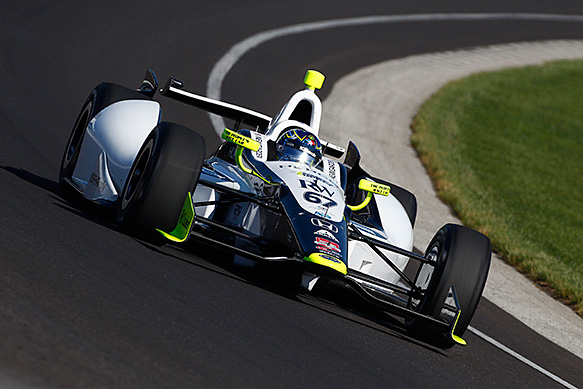 Josef Newgarden led the times as Indianapolis 500 practice resumed on Monday, the SFHR driver claiming his place at the top of the speed charts with a best lap of 227.105mph.
The slower times were in part a reflection of the switch back to race levels of boost after the engines were turned up by around 40bhp for qualifying over the weekend.
Newgarden's lap was 0.1s quicker than next fastest Juan Pablo Montoya, who tripped the beams at 226.532mph.
"After this qualifying format we had this weekend ... it was just so stressful and tiring, mentally fatiguing this weekend," Newgarden admitted.
"I think everyone felt that way. Everyone I talked to was just stressed to the max from these two days, so that's a good thing.
"You should have that at Indy. It was a little hard getting there today and having to go back out, but we really needed it.
"Honestly we needed it on our team, because we had so much rain last week that it was helpful to have a day where we're able to work on the car before Carb Day [Friday]."
Scott Dixon, Mikhail Aleshin and Tony Kanaan rounded out the top five, and last year's winner Kanaan said that he is pleased with the progress being made with his car in race spec.
"We ran the car in race trim all day, doing long runs and checking on things like setup and fuel mileage," he said.
"One more practice to go on Friday then you have what you have for the race. I think we've made some pretty good gains this week with the cars, and am now I'm 100 per cent focused on the job we have to do on Sunday."
The day was interrupted by a dramatic crash (video below) by Kurt Busch, who got squirrelly into Turn 2, over-corrected, and hit the wall hard.
There was a brief flash of flame as the wreckage spun back to the infield grass, although the NASCAR star was unhurt.
"To me it looked like he over-corrected, like you would more in a NASCAR, because you can slide those a little more," said Newgarden.
"It looked like ... he was chasing it up the wall like he would in a stock car and the thing almost snapped straight and he almost went straight I, but then just ended up hitting it on the side."
Monday's session was the last time that the cars will run before Carb Day on Friday.
Pos Driver               Team/Engine        Speed
 1. Josef Newgarden      Fisher/Honda       227.105mph
 2. Juan Pablo Montoya   Penske/Chevy       226.532mph
 3. Scott Dixon          Ganassi/Chevy      226.433mph
 4. Mikhail Aleshin      Schmidt/Honda      226.371mph
 5. Tony Kanaan          Ganassi/Chevy      226.336mph
 6. JR Hildebrand        Carpenter/Chevy    226.232mph
 7. Will Power           Penske/Chevy       226.107mph
 8. Sage Karam           Ganassi/Chevy      225.929mph
 9. Charlie Kimball      Ganassi/Chevy      225.846mph
10. Justin Wilson        Coyne/Honda        225.771mph
11. Marco Andretti       Andretti/Honda     225.769mph
12. Ryan Hunter-Reay     Andretti/Honda     225.719mph
13. Helio Castroneves    Penske/Chevy       225.638mph
14. Kurt Busch           Andretti/Honda     225.623mph
15. James Hinchcliffe    Andretti/Honda     225.255mph
16. Ryan Briscoe         Ganassi/Chevy      225.151mph
17. Simon Pagenaud       Schmidt/Honda      224.909mph
18. Martin Plowman       Foyt/Honda         224.855mph
19. Carlos Munoz         Andretti/Honda     224.54 mph
20. Ed Carpenter         Carpenter/Chevy    224.492mph
21. Alex Tagliani        Fisher/Honda       224.387mph
22. Sebastien Bourdais   KV/Chevy           224.359mph
23. James Davison        KV/Chevy           224.330mph
24. Jacques Villeneuve   Schmidt/Honda      224.029mph
25. Townsend Bell        KV/Chevy           223.617mph
26. Carlos Huertas       Coyne/Honda        223.495mph
27. Pippa Mann           Coyne/Honda        223.073mph
28. Buddy Lazier         Lazier/Chevy       222.961mph
29. Takuma Sato          Foyt/Honda         222.833mph
30. Graham Rahal         Rahal/Honda        222.773mph
31. Jack Hawksworth      Herta/Honda        222.602mph
32. Sebastian Saavedra   KV/Chevy           222.480mph
33. Oriol Servia         Rahal/Honda        221.272mph