Pau European F3: Esteban Ocon beats Max Verstappen to Sunday poles
| | |
| --- | --- |
| By Marcus Simmons | Saturday, May 10th 2014, 17:20 GMT |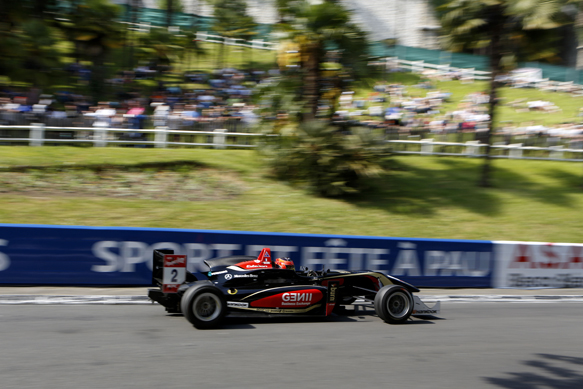 Esteban Ocon continued his denial of Max Verstappen in the Formula 3 European Championship weekend at Pau by claiming pole position for both of Sunday's races.
Once again the Frenchman engaged in battle with the Dutch racer, and this time he earned pole by 0.057 seconds for race two, and 0.050s for the final race, which is the 73rd Pau Grand Prix.
Ocon's Prema Powerteam Dallara-Mercedes held the advantage over Verstappen's Van Amersfoort Racing Dallara-Volkswagen when the session was red flagged with four minutes remaining after Tatiana Calderon crashed backwards into the tyre wall at the Foch chicane.
When the session restarted there were no improvements, meaning Lotus F1 Junior Ocon has made it a clean sweep of the three poles for the weekend.
Topping the later group, and therefore starting alongside Ocon on the front row for both races, was Felix Rosenqvist, who at last ended his dismal run.
After struggling with electronics problems in first qualifying, the Swede put on a spectacular display in his Mucke Motorsport Dallara-Mercedes.
Rosenqvist ended up just 0.005s adrift of Ocon's best, his session also featuring a stoppage with a few minutes to go when Spike Goddard crashed on the exit of the Foch chicane.
Rosenqvist's efforts to grab pole when the session restarted were lurid, including a launching of his front end into the air as he grabbed too much of the kerb at Foch.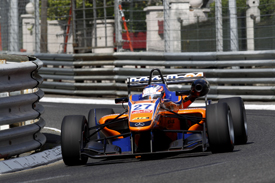 Tom Blomqvist was closest to Rosenqvist in his group. The Anglo-Swede has now served his 10-place grid penalties, so will start his Jagonya Ayam with Carlin Dallara-VW from the second row in both races.
Behind Ocon and Verstappen in the first group was Jake Dennis, the Racing Steps-backed Brit continuing his strong weekend in his Carlin Dallara-VW to head Prema runner Dennis van de Laar and the Fortec Motorsport machine of John Bryant-Meisner.
In the second group, Antonio Giovinazzi's Jagonya Ayam with Carlin entry took third from Fortec's Mitch Gilbert, Jordan King (Carlin) and Lucas Auer, who could not repeat his efforts of earlier in his Mucke machine.
On second-best times the order is shuffled for the third race, with Gilbert taking a best-ever third-row start slot, followed by Auer, Giovinazzi and King.
Race two qualifying:

Pos  Driver               Team/Car                        Time
 1.  Esteban Ocon         Prema Dallara-Merc              1m10.192s  Group B
 2.  Felix Rosenqvist     Mucke Dallara-Merc              1m10.197s  Group A
 3.  Max Verstappen       Van Amersfoort Dallara-VW       1m10.249s  Group B
 4.  Tom Blomqvist        Carlin Dallara-VW               1m10.547s  Group A
 5.  Jake Dennis          Carlin Dallara-VW               1m10.647s  Group B
 6.  Antonio Giovinazzi   Carlin Dallara-VW               1m10.561s  Group A
 7.  Dennis van de Laar   Prema Dallara-Merc              1m10.841s  Group B
 8.  Mitchell Gilbert     Fortec Dallara-Merc             1m10.579s  Group A
 9.  John Bryant-Meisner  Fortec Dallara-Merc             1m11.141s  Group B
10.  Jordan King          Carlin Dallara-VW               1m10.599s  Group A
11.  Ed Jones             Carlin Dallara-VW               1m11.242s  Group B
12.  Lucas Auer           Mucke Dallara-Merc              1m10.613s  Group A
13.  Sean Gelael          Carlin Dallara-VW               1m11.244s  Group B
14.  Nicholas Latifi      Prema Dallara-Merc              1m10.667s  Group A
15.  Gustavo Menezes      Van Amersfoort Dallara-VW       1m11.289s  Group B
16.  Felix Serralles      West-Tec Dallara-Merc           1m10.758s  Group A
17.  Tatiana Calderon     Jo Zeller Dallara-Merc          1m11.407s  Group B
18.  Antonio Fuoco        Prema Dallara-Merc              1m10.806s  Group A
19.  Felipe Guimaraes     Double R Dallara-Merc           1m11.458s  Group B
20.  Riccardo Agostini    Eurointernational Dallara-Merc  1m10.808s  Group A
21.  Alexander Toril      T-Sport Dallara-NBE             1m11.839s  Group B
22.  Spike Goddard        T-Sport Dallara-NBE             1m10.826s  Group A
23.  Michele Beretta      Eurointernational Dallara-Merc  1m12.062s  Group B
24.  Jules Szymkowiak     Van Amersfoort Dallara-VW       1m11.379s  Group A
25.  Hector Hurst         West-Tec Dallara-Merc           1m12.287s  Group B
26.  Roy Nissany          Mucke Dallara-Merc              1m12.617s  Group B

Race three qualifying:

Pos  Driver               Team/Car                        Time
 1.  Esteban Ocon         Prema Dallara-Merc              1m10.265s  Group B
 2.  Felix Rosenqvist     Mucke Dallara-Merc              1m10.300s  Group A
 3.  Max Verstappen       Van Amersfoort Dallara-VW       1m10.315s  Group B
 4.  Tom Blomqvist        Carlin Dallara-VW               1m10.603s  Group A
 5.  Jake Dennis          Carlin Dallara-VW               1m10.828s  Group B
 6.  Mitchell Gilbert     Fortec Dallara-Merc             1m10.614s  Group A
 7.  Dennis van de Laar   Prema Dallara-Merc              1m10.930s  Group B
 8.  Lucas Auer           Mucke Dallara-Merc              1m10.639s  Group A
 9.  John Bryant-Meisner  Fortec Dallara-Merc             1m11.251s  Group B
10.  Antonio Giovinazzi   Carlin Dallara-VW               1m10.691s  Group A
11.  Gustavo Menezes      Van Amersfoort Dallara-VW       1m11.289s  Group B
12.  Jordan King          Carlin Dallara-VW               1m10.722s  Group A
13.  Ed Jones             Carlin Dallara-VW               1m11.400s  Group B
14.  Nicholas Latifi      Prema Dallara-Merc              1m10.801s  Group A
15.  Sean Gelael          Carlin Dallara-VW               1m11.437s  Group B
16.  Riccardo Agostini    Eurointernational Dallara-Merc  1m10.959s  Group A
17.  Felipe Guimaraes     Double R Dallara-Merc           1m11.574s  Group B
18.  Antonio Fuoco        Prema Dallara-Merc              1m11.092s  Group A
19.  Tatiana Calderon     Jo Zeller Dallara-Merc          1m11.624s  Group B
20.  Felix Serralles      West-Tec Dallara-Merc           1m11.423s  Group A
21.  Alexander Toril      T-Sport Dallara-NBE             1m11.916s  Group B
22.  Spike Goddard        T-Sport Dallara-NBE             1m11.425s  Group A
23.  Michele Beretta      Eurointernational Dallara-Merc  1m12.138s  Group B
24.  Jules Szymkowiak     Van Amersfoort Dallara-VW       1m11.780s  Group A
25.  Hector Hurst         West-Tec Dallara-Merc           1m12.400s  Group B
26.  Roy Nissany          Mucke Dallara-Merc              1m12.639s  Group B