Spanish GP: Daniel Ricciardo frustrated by Mercedes' F1 advantage
| | |
| --- | --- |
| By Jonathan Noble and Glenn Freeman | Friday, May 9th 2014, 14:38 GMT |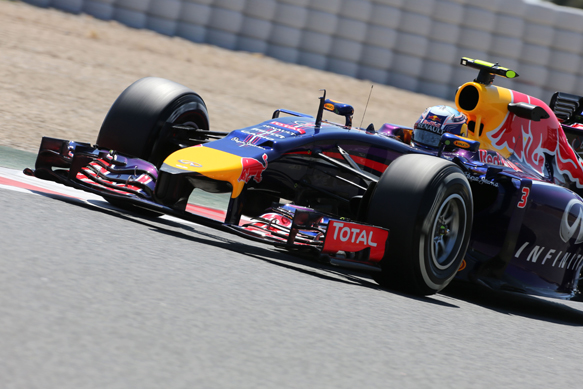 Daniel Ricciardo admits he is "a little bit frustrated" by the size of the gap between Mercedes and Red Bull after Friday's Spanish Grand Prix free practice sessions.
The Australian established himself and the Red Bull package as best of the rest behind Mercedes on Friday, but in both sessions he was nearly one second off the pace set by Lewis Hamilton.
While Ricciardo accepted that it was not a surprise to see the silver cars leading the way, the advantage Mercedes enjoyed was harder to take.
"We are making progress, but unfortunately Mercedes don't seem to be slowing down either, so they are a little bit far away," Ricciardo told reporters after the second session at Barcelona.
When asked if he was surprised by the gap, he added: "A little bit frustrated. Surprised, I don't know, as they have been so strong already.
"I hoped we would probably close the gap a bit more - today was too far.
"We are trying to pull them back, but we seem to be in a solid third place today.
"It would be nice to fight for a win soon, but for now it seems that thirds are - at least today - the best we can do."
VETTEL FAILURE 'SMALL'
Ricciardo's Red Bull team-mate Sebastian Vettel only completed four laps on Friday morning before his car broke down, costing him the rest of the day as the team replaced the wiring loom.
Vettel played down the significance of the failure, saying that the complicated internals of the car made it seem like a bigger issue than it was.
"It is a small failure with big consequences," he said. "We decided to change the whole loom and unfortunately that is a pretty big change.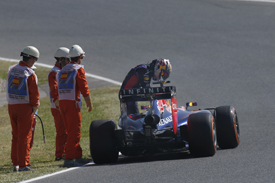 "It was rubbing a bit which caused damage and caused the short, and made the car stop.
"There are sensors everywhere so it takes a while to strip the car and take everything apart."
The four-time world champion added that he expects Red Bull to be able to make up for the lost track time.
"I hope we can recover, otherwise it would be sad news," he said. "I'm confident we should be fine.
"Daniel did good work today, so I think we are in a good position to extract all the information. We should be OK."