Hockenheim European F3: Verstappen gets poles, Blomqvist demoted
| | |
| --- | --- |
| By Andrew van Leeuwen | Saturday, May 3rd 2014, 14:49 GMT |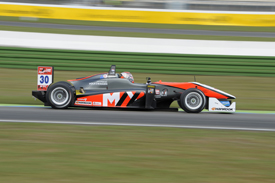 Max Verstappen will start from pole position for races two and three of the Hockenheim European Formula 3 event after an engine penalty for Tom Blomqvist.
While it was Carlin driver Blomqvist that set the two fastest times of the session, the Briton changed engines beforehand, meaning he receives a 10-place grid penalty for the next three races - two at Hockenheim, and the first in Pau.
As a result, Verstappen inherited a pair of pole positions for Sunday's two races in Germany.
Prema's Esteban Ocon finished hot on Van Amersfoort driver Verstappen's heels to clinch second for race two, while Antonio Giovinazzi becomes Carlin's lead runner in third after Blomqvist's demotion.
Ed Jones was fourth, Antonio Fuoco fifth, while Felix Roseqnvist was sixth, the best of the Mucke cars and one place ahead of his team-mate, race one winner Lucas Auer.
Jordan King, who was third in race one, could manage just 19th on the grid.
The top three remain the same for the race three grid, with Rosenqvist fourth, Fuoco fifth, Jones sixth and Auer seventh. King will again start from 19th.
Race two times:

Pos  Driver               Team/Car                        Time       Gap
 1.  Tom Blomqvist        Carlin Dallara-VW               1m31.655s*
 2.  Max Verstappen       Van Amersfoort Dallara-VW       1m32.014s  +0.359s
 3.  Esteban Ocon         Prema Dallara-Merc              1m32.044s  +0.389s
 4.  Antonio Giovinazzi   Carlin Dallara-VW               1m32.105s  +0.450s
 5.  Ed Jones             Carlin Dallara-VW               1m32.164s  +0.509s
 6.  Antonio Fuoco        Prema Dallara-Merc              1m32.208s  +0.553s
 7.  Felix Rosenqvist     Mucke Dallara-Merc              1m32.228s  +0.573s
 8.  Lucas Auer           Mucke Dallara-Merc              1m32.258s  +0.603s
 9.  Felix Serralles      West-Tec Dallara-Merc           1m32.278s  +0.623s
10.  Nicholas Latifi      Prema Dallara-Merc              1m32.314s  +0.659s
11.  Jake Dennis          Carlin Dallara-VW               1m32.327s  +0.672s
12.  Dennis van de Laar   Prema Dallara-Merc              1m32.344s  +0.689s
13.  Mitchell Gilbert     Fortec Dallara-Merc             1m32.445s  +0.790s
14.  John Bryant-Meisner  Fortec Dallara-Merc             1m32.575s  +0.920s
15.  Gustavo Menezes      Van Amersfoort Dallara-VW       1m32.688s  +1.033s
16.  Jules Szymkowiak     Van Amersfoort Dallara-VW       1m32.740s  +1.085s
17.  Sean Gelael          Carlin Dallara-VW               1m32.776s  +1.121s
18.  Alexander Toril      T-Sport Dallara-NBE             1m32.861s  +1.206s
19.  Jordan King          Carlin Dallara-VW               1m32.871s  +1.216s
20.  Spike Goddard        T-Sport Dallara-NBE             1m32.887s  +1.232s
21.  Felipe Guimaraes     Double R Dallara-Merc           1m33.011s  +1.356s
22.  Riccardo Agostini    Eurointernational Dallara-Merc  1m33.208s  +1.553s
23.  Roy Nissany          Mucke Dallara-Merc              1m33.231s  +1.576s
24.  Tatiana Calderon     Jo Zeller Dallara-Merc          1m33.361s  +1.706s
25.  Sandro Zeller        Jo Zeller Dallara-Merc          1m33.365s  +1.710s
26.  Michele Beretta      Eurointernational Dallara-Merc  1m33.377s  +1.722s
27.  Hector Hurst         West-Tec Dallara-Merc           1m33.798s  +2.143s

* Will take 10-place grid drop

Race three times:

Pos  Driver               Team/Car                        Time       Gap
 1.  Tom Blomqvist        Carlin Dallara-VW               1m31.958s*
 2.  Max Verstappen       Van Amersfoort Dallara-VW       1m32.185s  +0.227s
 3.  Esteban Ocon         Prema Dallara-Merc              1m32.242s  +0.284s
 4.  Antonio Giovinazzi   Carlin Dallara-VW               1m32.251s  +0.293s
 5.  Felix Rosenqvist     Mucke Dallara-Merc              1m32.256s  +0.298s
 6.  Antonio Fuoco        Prema Dallara-Merc              1m32.257s  +0.299s
 7.  Ed Jones             Carlin Dallara-VW               1m32.304s  +0.346s
 8.  Lucas Auer           Mucke Dallara-Merc              1m32.382s  +0.424s
 9.  Dennis van de Laar   Prema Dallara-Merc              1m32.501s  +0.543s
10.  Jake Dennis          Carlin Dallara-VW               1m32.512s  +0.554s
11.  Nicholas Latifi      Prema Dallara-Merc              1m32.591s  +0.633s
12.  John Bryant-Meisner  Fortec Dallara-Merc             1m32.626s  +0.668s
13.  Felix Serralles      West-Tec Dallara-Merc           1m32.636s  +0.678s
14.  Mitchell Gilbert     Fortec Dallara-Merc             1m32.753s  +0.795s
15.  Sean Gelael          Carlin Dallara-VW               1m32.814s  +0.856s
16.  Gustavo Menezes      Van Amersfoort Dallara-VW       1m32.829s  +0.871s
17.  Jules Szymkowiak     Van Amersfoort Dallara-VW       1m32.829s  +0.871s
18.  Spike Goddard        T-Sport Dallara-NBE             1m32.906s  +0.948s
19.  Jordan King          Carlin Dallara-VW               1m32.937s  +0.979s
20.  Alexander Toril      T-Sport Dallara-NBE             1m32.940s  +0.982s
21.  Felipe Guimaraes     Double R Dallara-Merc           1m33.040s  +1.082s
22.  Riccardo Agostini    Eurointernational Dallara-Merc  1m33.360s  +1.402s
23.  Michele Beretta      Eurointernational Dallara-Merc  1m33.479s  +1.521s
24.  Roy Nissany          Mucke Dallara-Merc              1m33.483s  +1.525s
25.  Tatiana Calderon     Jo Zeller Dallara-Merc          1m33.483s  +1.525s
26.  Sandro Zeller        Jo Zeller Dallara-Merc          1m33.601s  +1.643s
27.  Hector Hurst         West-Tec Dallara-Merc           1m33.892s  +1.934s

* Will take 10-place grid drop