Nissan ZEOD RC on target for electric Le Mans lap
| | |
| --- | --- |
| By Gary Watkins | Tuesday, April 29th 2014, 15:18 GMT |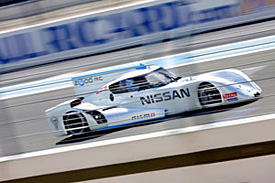 Nissan is confident that its ZEOD RC racer will hit its stated objectives in the Le Mans 24 Hours, including the first all-electric lap of the Circuit de la Sarthe.
The ZEOD is on target to complete a full racing lap purely on energy retrieved from its hybrid system and to hit 300km/h (186.4mph) on the Mulsanne Straight during that lap, according to Nissan global motorsport boss Darren Cox.
He also believes that the car will be able to lap slightly faster than an LMP2 prototype running on its single-turbo direct-injection petrol engine - around the 3m40s mark - and in under four minutes when running on electric power.
"We are very confident that we will meet all those objectives," said Cox of the car that fills the Garage 56 grid spot at Le Mans reserved for experimental machinery.
But Cox described the chances of the ZEOD completing the 24 Hours without problems as "almost an impossibility".
"It would be an unbelievable achievement if we delivered 24 hours of continuous running," he continued.
"It is what we are aiming for, but not what we are expecting."

Nissan ZEOD track test
Cox said that the ZEOD made progress during its first prolonged track test at Paul Ricard earlier this month when its three drivers for Le Mans, Lucas Ordonez, Wolfgang Reip and Satoshi Motoyama all drove.
"The drivetrain stuff - both parts of it - worked well, but Ricard was the first time we were running with increased downforce levels and g-forces," he explained
"That meant we were finding out a lot of about the chassis for the first time, which resulted in various issues curtailing our running."
The internal combustion element of the ZEOD's drivetrain has now completed over 40 hours in total on the dyno and 18 hours on one unit.
Further testing is scheduled at the Bruntingthorpe proving ground this week.