Nick Heidfeld gets works Nissan seat for Nurburgring 24 Hours
| | |
| --- | --- |
| By Gary Watkins | Monday, April 28th 2014, 08:29 GMT |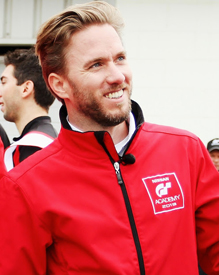 Ex-Formula 1 driver Nick Heidfeld will be part of Nissan's factory attack on the Nurburgring 24 Hours in June.
The Rebellion Racing World Endurance Championship regular, who will be making his second appearance in the Nurburgring-Nordschleife enduro, will be part of the Japanese manufacturer's first factory assault on the race with its GT-R NISMO GT3.
Heidfeld has been brought into the line-up as part of his judging and mentoring role with the German Nissan GT Academy.
His team-mates will be Blancpain Endurance Series driver Florian Strauss, who won last year's German competition, inaugural Academy winner Lucas Ordonez and Alex Buncombe.
Heidfeld said: "I'm delighted to increase my involvement with Nissan from my judging role on the German GT Academy show to now also include racing at the Nurburgring 24 Hours.
"To be team-mates with Florian, who I helped select as the 2013 winner of the GT Academy competition, is quite incredible and is a great chance for me to continue the mentoring process with him at the Nordschleife."
The second of the two full-factory Nissans, which will be run by the British RJN team in conjunction with NISMO personnel, will feature Super GT regulars Michael Krumm and Kazuki Hoshino, BES driver Katsumasa Chiyo and 'Ring regular Tetsuya Tanaka.
An additional works-supported Nissan will be entered by the Schulze team for the creator of the Gran Turismo computer game, Kazanori Yamauchi, and 2009 academy winner Jordan Tresson, who is returning to the Nissan fold after a season away.
Nissan global motorsport boss Darren Cox said: "We feel like we are bringing the GT-R home to the track on which the road car was developed.
"We are stepping up from what have been privateer efforts, so we are under no illusions that we are going to win the race."
Buncombe claimed pole position for last weekend's VLN race on the Nurburgring-Nordschleife and ended up eighth in the race in the car he shared with Ordonez and Strauss.