Crunch talks over WRC future taking place in Munich
| | |
| --- | --- |
| By David Evans | Thursday, April 24th 2014, 11:50 GMT |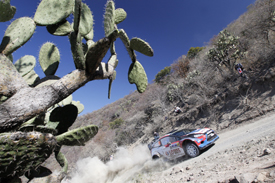 The future of the World Rally Championship is being discussed in pivotal talks between the teams and the WRC Promoter in Munich today.
The meeting was called following an unprecedented stand-off between the two parties at the Rally of Portugal earlier this month, when the WRC Promoter denied the teams film footage from the opening day's action and the teams responded by denying the promoter access to their drivers.

Opinion: WRC stand-off has to end
Two days are reported to have been set aside for discussions which have been labeled as vital for future co-operation among the stakeholders.
A senior source told AUTOSPORT earlier this week: "If we don't get a satisfactory outcome from the meeting, I don't know where we go from here.
"It's not overdoing this to say we're at a pivotal moment in the relationship and, by extension, the future of the series.
"We need to know which direction the World Rally Championship is heading in."
It is understood that the promoter's plans for the remaining nine years of its 10-year global promotion agreement with the FIA will be at the heart of the discussions.