Romain Grosjean: Lotus now second-best of Renault Formula 1 teams
| | |
| --- | --- |
| By Ben Anderson | Wednesday, April 23rd 2014, 15:33 GMT |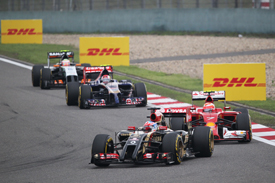 Romain Grosjean says Lotus is now the second best Renault team in Formula 1 after running in the top 10 in the Chinese Grand Prix.
The Franco-Swiss driver was on course to score his team's first point of the season at the Shanghai circuit, before being forced to retire with a gearbox problem.
Nevertheless, Grosjean reckons Lotus has finally turned a corner with its troublesome E22 design.
"I think we were going to get a point in the end before the gearbox problem, but if you take the picture from the whole weekend it's 90 per cent positive," Grosjean told AUTOSPORT.
"Renault did a good job, Lotus did a good job and in the end there has been no revolution, just a small step in the right direction.
"We were the second Renault team [in China], in front of McLaren and Toro Rosso, and fighting with Force India, so that was positive."
Team owner Gerard Lopez said Grosjean would have been even more competitive in China but for a stalling issue with his car's diffuser.
"Romain had an issue with rear downforce stalling when we were aiming for P6 in qualifying, which is a bit more like it," Lopez told AUTOSPORT. "The car has the pace to be there.
"Before the gearbox issue he had the same stalling issues again in the race, so the car was difficult to drive, but I still think we could have done P9 or P10 even with that.
"When fourth gear failed there was no point taking any risk with the engine - we're already on a third engine with [team-mate] Pastor [Maldonado] - so it made sense to retire Romain.
"It's been a differently frustrating weekend in the sense that we've clearly seen for ourselves the pace is starting to be there, so not to score any points is frustrating."