Niki Lauda warns Mercedes to be cautious about F1 title prospects
| | |
| --- | --- |
| By Jonathan Noble | Monday, April 21st 2014, 08:37 GMT |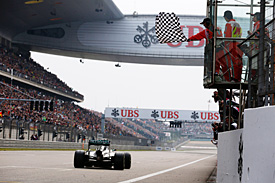 Niki Lauda has warned his Mercedes team that it needs to be careful about its Formula 1 title prospects despite its dominant start to the campaign.
Lewis Hamilton and Nico Rosberg have won all the races this season, with none of their rivals having yet looked like threatening them for a victory.
But Lauda, who is non-executive chairman at Mercedes, thinks that nothing can be taken for granted, especially with Red Bull having shown such progress in recent weeks.
"It is looking good, but let's be careful," said Lauda. "There are a lot of races to come.

Hamilton dominates Chinese GP
"The Red Bulls are famous for coming back, and [Adrian] Newey is there.
"He wasn't here [in China], so he sends something new for Barcelona I'm afraid.
"Things can go wrong in any way. But, at least the start point for us is not a bad one."
NEXT RACE KEY TO TITLE HOPES
Teams have focused on reliability and engine performance at the start of this year, but everyone is planning a major aerodynamic upgrade for the next race in Barcelona.
Lauda thinks that the Spanish Grand Prix will be a big test for Mercedes and give a true answer as to whether or not it is set for title glory.
"For me the biggest worry, which I am always worried about, is that we keep on working," he said.
"We can't just breathe once and say we are the best. This will not happen.
"The most important time is the next three weeks, as everyone will come up with a new package.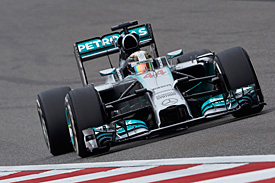 "Plus Barcelona is a very particular circuit. It is hard on tyres, and not so much about engine alone. You need a good car/engine combination.
"There will be the next level of measuring about who did the best upgrades? Who is the quickest there? And who will win the race?
"This will be very important information for me personally to see how the season will continue. If you are on top of the game in Barcelona, then it is a bit easier.
"After that, you have to watch it again after the summer break, but Barcelona for me is a key race."