Chinese GP: Williams pitstop wheel mix-up cost Felipe Massa sixth
| | |
| --- | --- |
| By Edd Straw | Sunday, April 20th 2014, 12:14 GMT |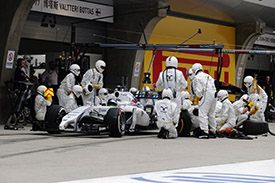 Felipe Massa's disastrous pitstop, which cost him a likely sixth place finish in the Chinese Grand Prix, was caused by the team attempting to fit the replacement rear wheels to the wrong side of the car.
Williams head of vehicle performance Rob Smedley would not go into detail of exactly how this happened, but it led to the team attempting to fit the new rubber to the opposite side of the car to which they were intended at Massa's first pitstop before realising the mistake and swapping them over.
The delay while Williams switched the wheels back cost Massa close to one minute and Smedley says that steps will be taken to avoid a repeat of the error.
"We tried to fit the left on the right and vice versa," said Smedley when asked by AUTOSPORT about the problem.
"What led to it, in very broad, general terms, was not having good enough procedures, not having good enough processes to catch things like that to ensure they don't happen.
"We have to go away, be pragmatic, be very honest and open with each other in the team.
"That's something that I am keen to do at Williams, to be absolutely transparent with everybody and go away and see this was good, this wasn't good and needs to be fixed.
"We will decide on Monday/Tuesday exactly what needs to be fixed, where the priorities are, and just get on with it."
Smedley added that he was happy to take responsibility for the error because he of his senior position in the team.
"When I spoke with all the guys after the race, even the guys in the pitstops who brought the tyres out, I said if we want to blame anyone, then blame me because that's what I'm paid to do," said Smedley. "I take that hit on my shoulders, that's my position in the team."
Massa's race was also compromised by the clash with Fernando Alonso at the start, which momentarily launched his Williams into the air. This was a result of Alonso's Ferrari drifting over on him on the run to the first corner as the fast-starting Massa attempted to go between the Spaniard and Daniel Ricciardo's Red Bull.
Massa blamed Alonso for the incident.
"I had a great start and then, in my opinion, Fernando didn't see me and he hit my car," said Massa "We need to check the car to see if something has happened because we had a lot of understeer after because I also flew a bit.
"The stewards didn't think it was a problem, so they didn't do anything."