Donington BTCC: Jason Plato leads MG one-two in wet race one
| | |
| --- | --- |
| By Kevin Turner | Sunday, April 20th 2014, 11:18 GMT |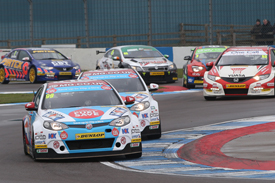 Jason Plato took his 83rd British Touring Car Championship victory in a damp race one at Donington Park.
Plato's MG6 held off the fast-starting WSR BMW of Colin Turkington at the start and led every lap of the race.
Turkington struggled in the early stages and soon lost out to Sam Tordoff's MG and Gordon Shedden's slow-starting Honda Civic Tourer on lap one.
As the MGs drew clear, Turkington picked up pace and repassed Shedden into Redgate on lap six.
He was soon followed by Andrew Jordan's Eurotech Civic, flying despite 45kg of success ballast.
Jordan continued his charge by passing Turkington, with Rob Collard (up from 13th on the grid) following the Honda to move into fourth.
The gap to the MGs was too big and Jordan had to settle for third, but Tordoff stayed with Plato all the way to the flag, finishing just 0.4 seconds behind his more experienced team-mate.
Behind Collard in fourth, a struggling Turkington just held off Shedden on the run to the flag, while Fabrizio Giovanardi came through to seventh after starting on row six.
The 2007 and '08 champion finished ahead of Matt Neal's Honda, which in turn was not far clear of Aron Smith. The BMR VW Passats did not look as strong in the wet as they had in the dry, Smith's team-mate Alain Menu only finishing 13th.
Apart from Collard, Dave Newsham starred. Despite two early offs, the AmD Ford Focus driver came through to be part of a multi-car fight involving Tom Ingram's Speedworks Toyota Avensis and the MG of Marc Hynes to come home 12th.
Rob Austin's Audi was the only car to come in to the pits to switch to slicks. He was the fastest car in the closing stages, but lost too much time making the change to get back into the points.
Results - 16 laps:

Pos  Driver               Team/Car             Time/Gap
 1.  Jason Plato          MG                 21m13.030s
 2.  Sam Tordoff          MG                    +0.442s
 3.  Andrew Jordan        Eurotech Honda        +6.398s
 4.  Rob Collard          WSR BMW               +7.943s
 5.  Colin Turkington     WSR BMW              +16.094s
 6.  Gordon Shedden       Honda                +16.277s
 7.  Fabrizio Giovanardi  Motorbase Ford       +21.342s
 8.  Matt Neal            Honda                +23.015s
 9.  Aron Smith           BMR VW               +23.820s
10.  Tom Ingram           Speedworks Toyota    +25.284s
11.  Marc Hynes           MG                   +25.516s
12.  Dave Newsham         AmD Ford             +25.672s
13.  Alain Menu           BMR VW               +26.246s
14.  Mat Jackson          Motorbase Ford       +29.402s
15.  Lea Wood             Houseman Toyota      +29.915s
16.  Adam Morgan          Ciceley Mercedes     +30.144s
17.  Glynn Geddie         UA Toyota            +30.156s
18.  Nick Foster          WSR BMW              +30.579s
19.  Jack Goff            BMR Vauxhall         +31.038s
20.  Martin Depper        Eurotech Honda       +33.963s
21.  Daniel Welch         Welch Proton         +38.529s
22.  Aiden Moffat         Moffat Chevrolet     +44.271s
23.  Simon Belcher        Handy Toyota         +49.924s
24.  Chris Stockton       BTC Chevrolet        +53.239s
25.  Jack Clarke          Motorbase Ford       +53.446s
26.  Ollie Jackson        Welch Proton         +57.773s
27.  James Cole           UA Toyota          +1m01.373s
28.  Robb Holland         Rotek Audi         +1m01.601s
29.  Rob Austin           RAR Audi              +2 laps

Retirements:

     Warren Scott         BMR Vauxhall           0 laps
     Hunter Abbott        RAR Audi               0 laps