Chinese GP: Bottas and Massa think Williams's rain woes are over
| | |
| --- | --- |
| By Jonathan Noble | Saturday, April 19th 2014, 11:57 GMT |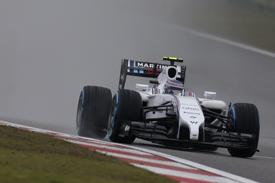 Williams's form in qualifying at the Chinese Grand Prix has proved that the team has banished its wet weather Formula 1 woes, claim its drivers.
Having struggled in the wet sessions in Australia and Malaysia, Felipe Massa and Valtteri Bottas secured sixth and seventh on the grid in China's rain-hit qualifying session.
With the team having delivered a host of updates, allied to a different way of working with tyre temperatures and pressures, both men are upbeat about Williams's performance in the wet.
Bottas said: "We have made some progress. I think today it was quite clear that the changes we have made, even a little bit improving the aero of the car, help immediately in the wet.
"Plus there are some other tricks we have done in the wet that also help.
"We still know the weakness of the car is the rear end, but it was better today.
"I think we have a better car than in Bahrain, it is not a lot, but we will see tomorrow how much the others have improved.
"We really can have a good race. I think speaking about podiums is still too early but I think we can definitely get a bit up from where we are if we have a good race."
Massa, who reckoned he could have gone quicker if he had saved a fresh set of wet tyres for the end of the session, was delighted by the developments Williams had made.
"I think it proves that we made a step forward in the car," he explained. "The car is not the same car we had in the last race, which I am pretty happy about and it shows that this car has good potential.
"There is a lot to do, a lot to improve the car and a lot to make it quicker and it shows what we did today is a step forward compared to the qualifying in wet conditions we have had so far."