Kris Meeke says Circuit of Ireland should bid for WRC
| | |
| --- | --- |
| By David Evans | Wednesday, April 16th 2014, 09:49 GMT |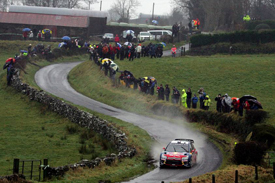 Citroen World Rally Championship star Kris Meeke says the Circuit of Ireland should be the event to take Ireland back to the World Rally Championship.
While appreciating the effort taken to land a place on the European Rally Championship calendar, Meeke said this week's Belfast-based event should set its sights higher.
Meeke's home island has been included in the WRC twice before, when Rally Ireland ran in 2007 and 2009. The Dungannon driver says the time has come for its return.
"Being a little bit selfish, the World Rally Championship is where I'm at right now and the chance to drive my home roads in the WRC would be awesome," said Meeke.
"Rally Ireland was fantastic and an incredible job from the people to get the world championship there, but as a name in Rally Ireland, it had no substance.
"The organisers tried to create a new rally, which wasn't needed; I'm led to believe the Circuit of Ireland is the second oldest rally in the world and that really means something.
"The Circuit is right up there with Monte Carlo and the RAC as an event which has history and pedigree.
"Obviously, it would need money, but Ireland does deserve to be back in the WRC."
Meeke, who will be present in Belfast working as a television pundit for Eurosport, said a return to a cross-border Circuit would be necessary for a WRC-level event.
"The roads around here are absolutely mega," said Meeke.
"Donegal is only two hours up the road and you could have a remote service in Derry for the day, a loop around the right stages up there and then back down.
"It's all possible and the stages would be fantastic. I might be a bit biased here, but I've done a few events around the world and I know just how good our stages are and they definitely have a place in the world championship."