Zeltweg European F3 testing: Max Verstappen fastest on final day
| | |
| --- | --- |
| | Wednesday, April 9th 2014, 20:55 GMT |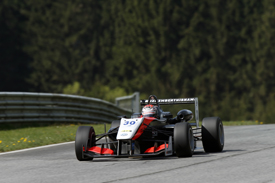 Max Verstappen topped the final day of pre-season European Formula 3 Championship testing at Zeltweg on Wednesday.
The son of 1990s Formula 1 driver Jos Verstappen is stepping straight into F3 from karts with Van Amersfoort Racing this season, with Ferrari's Florida Winter Series his only car racing experience so far.
Despite being a frontrunner throughout testing, 16-year-old Verstappen played down his chances in the European F3 opener at Silverstone later this month.
"Even though I did quite well in testing, that doesn't mean that I will be winning races at Silverstone right away," he said.
"I still have some things to learn, but I reckon that I am heading into the right direction."

AUTOSPORT takes on Verstappen at Sebring
Tom Blomqvist was second quickest for Carlin as he made up for lost time after the engine problems that prevented him from running on Tuesday. The Briton lapped 0.240 seconds off Verstappen's 1m23.690s benchmark.
Carlin provided all Verstappen's main opposition, with Blomqvist's team-mates Antonio Giovinazzi, Ed Jones, Jake Dennis and Jordan King completing the top six.
Last season's runner-up Felix Rosenqvist was seventh for Mucke, ahead of Ferrari protege Antonio Fuoco in Prema's fastest car.
Verstappen's team-mate Jules Szymkowiak sat out the second day due to engine problems that had developed on day one.
Formula Renault 3.5 driver Marco Sorensen again stood in for fellow Lotus F1 junior Oscar Tunjo at the Renault-powered Signature squad.
Pos  Driver               Team/Car                        Time       Gap
 1.  Max Verstappen       Van Amersfoort Dallara-VW       1m23.690s
 2.  Tom Blomqvist        Carlin Dallara-VW               1m23.930s  +0.240s
 3.  Antonio Giovinazzi   Carlin Dallara-VW               1m23.932s  +0.242s
 4.  Ed Jones             Carlin Dallara-VW               1m24.296s  +0.606s
 5.  Jake Dennis          Carlin Dallara-VW               1m24.298s  +0.608s
 6.  Jordan King          Carlin Dallara-VW               1m24.466s  +0.776s
 7.  Felix Rosenqvist     Mucke Dallara-Merc              1m24.503s  +0.813s
 8.  Antonio Fuoco        Prema Dallara-Merc              1m24.504s  +0.814s
 9.  Mitchell Gilbert     Fortec Dallara-Merc             1m24.529s  +0.839s
10.  Riccardo Agostini    Eurointernational Dallara-Merc  1m24.546s  +0.856s
11.  Esteban Ocon         Prema Dallara-Merc              1m24.595s  +0.905s
12.  Gustavo Menezes      Van Amersfoort Dallara-VW       1m24.612s  +0.922s
13.  John Bryant-Meisner  Fortec Dallara-Merc             1m24.622s  +0.932s
14.  Nicholas Latifi      Prema Dallara-Merc              1m24.696s  +1.006s
15.  Lucas Auer           Mucke Dallara-Merc              1m24.761s  +1.071s
16.  Sean Gelael          Carlin Dallara-VW               1m24.832s  +1.142s
17.  Roy Nissany          Mucke Dallara-Merc              1m24.957s  +1.267s
18.  Felipe Guimaraes     Double R Dallara-Merc           1m24.992s  +1.302s
19.  Dennis van de Laar   Prema Dallara-Merc              1m25.185s  +1.495s
20.  Felix Serralles      West-Tec Dallara-Merc           1m25.283s  +1.593s
21.  Michele Beretta      Eurointernational Dallara-Merc  1m25.501s  +1.811s
22.  Spike Goddard        T-Sport Dallara-Nissan          1m25.588s  +1.898s
23.  Alexander Toril      T-Sport Dallara-Nissan          1m25.649s  +1.959s
24.  Sandro Zeller        Jo Zeller Dallara-Merc          1m25.726s  +2.036s
25.  Marco Sorensen       Signature Dallara-Renault       1m25.836s  +2.146s
26.  Hector Hurst         West-Tec Dallara-Merc           1m25.995s  +2.305s
27.  Tatiana Calderon     Signature Dallara-Renault       1m26.251s  +2.561s