Bahrain GP: Red Bull didn't have time to fix Vettel's problems
| | |
| --- | --- |
| By Jonathan Noble and Pablo Elizalde | Saturday, April 5th 2014, 18:13 GMT |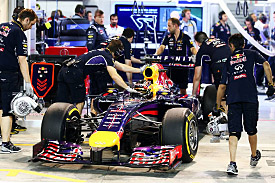 Sebastian Vettel says his Red Bull Formula 1 team ran out of time to fix the issue that hampered his running during qualifying for the Bahrain Grand Prix.
The world champion was knocked out in Q2 for the second time this season and qualified down in 11th position, although he will start from 10th following his team-mate's Daniel Ricciardo's grid penalty.
Vettel suffered from a problem with his downshifting during his flying lap in Q2, an issue that appeared after the first qualifying segment and that Red Bull was unable to solve in time.
The world champion believes he would have made it into Q3 without the problem.

Bahrain GP qualifying report
"We had some issues with the shift. Between Q1 and Q2 something went wrong and we couldn't fix it in time, so I had to do the lap compromised," said Vettel.
"How much is difficult to measure, but surely it was no help. The car behaviour was not the way I expected or the way I wanted.
"I'm not a fan of blaming something in particular, [but] without it probably I would have made it to Q3. It was not the session we wanted to have."
OTHER AREAS COMPROMISED
The German also explained that a downshift problem on a 2014 F1 car has other ramifications that affect its handling.
"There's a lot of stuff going on this year," he said. "Obviously when you hit the brakes you are not just hitting the brakes.
"When you hit the brakes you are also charging the car, so you try to get as much energy as you can under braking.
"The total amount is limited by the FIA, but how it all works in combination when you hit the brakes is up to your tuning.
"And in combination with the downshift it can upset the whole thing a little bit.
"It can be a bit complicated. We have worked on this quite a lot.
"We are not yet where we want to be so I'm not yet happy with the car getting to the apex. It's a lot of stuff ahead of us."
Vettel admitted the nature of the Sakhir circuit was always going to prove more challenging for Red Bull.
"We knew from testing that it's a difficult track for us," he said. "We are down on power.
"Around here you need some power. That's how it is. I think nonetheless we have a good chance to put the car in a fairly good place in the points."