Kamui Kobayashi claims Caterham's 2014 F1 season has now started
| | |
| --- | --- |
| By Edd Straw | Wednesday, April 2nd 2014, 11:42 GMT |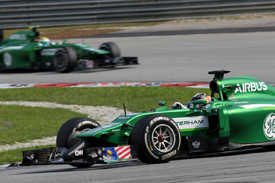 Caterham is now able to focus on set-up and development work after proving its 2014 Formula 1 car is reliable with a double finish in the Malaysian Grand Prix.
Kamui Kobayashi and Marcus Ericsson finished 13th and 14th in Malaysia and the Japanese driver believes the race is effectively the starting point of the team's season.
"It has been a very difficult time for the team, so finishing the race with both cars is great," said Kobayashi when asked about the result by AUTOSPORT.
"This is, in reality, our start for the rest of the year.
"The focus was not the beginning, and the end of the season is going to be more important for us, but this is a good way to start and now we really have to focus on reliability in practice and, of course, on performance.
"We can see the potential, but we have to focus and work really hard."
Kobayashi stressed that while the result was encouraging, the team has ambitions above simply finishing in the lower midfield.
Although the car can improve, he needs more running to understand what its true potential is and how long it will take for Caterham to emerge as a potential points scorer.
"We definitely have a lot of work to do and we cannot be too happy with this result, but the most important thing is to always make steps," he said.
"Our target is to score points. We don't know how much time we need, but definitely we need to target that.
"From Bahrain [testing] I haven't changed any settings, so unfortunately we don't know how much effect there can be with small changes.
"I need more time to understand [the potential] but we need to work on the development a lot."