Nico Hulkenberg: Force India will keep challenging F1 frontrunners
| | |
| --- | --- |
| By Ben Anderson | Wednesday, April 2nd 2014, 09:46 GMT |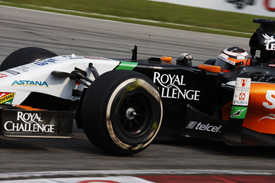 Nico Hulkenberg sees no reason why Force India cannot maintain its strong start to the season and continue to challenge near the front of the Formula 1 field.
The German has finished in the top six in both of the first two grands prix held so far in 2014, narrowly missing out on beating Fernando Alonso's Ferrari in a close race for fourth in Malaysia.
Force India has been an occasional giant-killing underdog in recent years, but Hulkenberg believes Vijay Mallya's squad has a strong enough package this season to be in the top six regularly.
"I don't see any reason why we couldn't maintain that, it should be possible," said Hulkenberg.
"Of course we are in the middle of a development race, so we've got to make sure all the things we learn, the weaknesses of the car, that we translate that into a better package.
"But I think we can still stay strong. Of course sometimes it may be a bit track dependant, but I think we have a very decent package."
Deputy team principal Bob Fernley praised Hulkenberg's driving, but insisted Force India has built a car good enough to challenge F1's bigger teams on a consistent basis.
"I don't think he's outperforming the car. He's doing a good job with the car, but without the car he can't do that," Fernley told AUTOSPORT.
"It's going to vary a little bit from circuit to circuit as we get used to things and that's the going to be the case for a few races until things settle down.
"Certainly the intention is not to slip back. It's actually to try to go forward.
"I think we are where we wanted to be [at the moment]. We set out at the beginning of the season with a view to try to break into the top four or five teams and I think we're there.
"What we've got to do is stay there and try a bit harder to be at the front end. Podiums are what we're looking for. We've not been cowering in any way. The objective is podiums and we're not going to back off it."
DIFFICULT START FOR PEREZ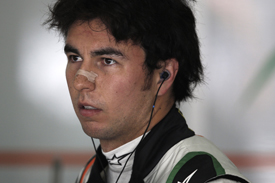 McLaren refugee Sergio Perez has endured a much tougher to start to his season with Force India, qualifying well behind team-mate Hulkenberg, finishing a distant 10th in Australia and failing to start the Malaysian GP thanks to a software glitch.
Fernley said the team had let Perez down in Malaysia, where he reckons the Mexican could have been up with Hulkenberg had he taken the start.
"The poor guy has struggled," Fernley told AUTOSPORT.
"It didn't help when he got taken out with [Esteban] Gutierrez in Melbourne, but he fought his way back to a great position in 10th.
"Sadly we let him down a bit in Malaysia. We had a software glitch that took him out. Had that not happened I think he'd have been right behind Nico."