IndyCar drops double-file restarts for road/street tracks and Indy
| | |
| --- | --- |
| By Mark Glendenning | Saturday, March 29th 2014, 14:29 GMT |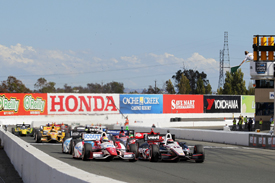 IndyCar has dropped double-file restarts on road/street courses as part of a broad package of changes to the regulations, all of which will take effect immediately.
Details of many of the tweaks have been filtering out for the past two days, however the official announcement came only after the teams were formally notified of the changes on Saturday morning.
In addition to the new three-steward race control system already reported on AUTOSPORT, the series has confirmed that double-file restarts will be dropped for all street and road course events. Double-file restarts will be retained for ovals, with the exception of Indianapolis Motor Speedway.
Newly-retired four-time champion Dario Franchitti believes that the switch to single-file restarts is the right move.
"The double-file... I think it looks kind of spectacular as it came up to the start, but then what then happened was, if you got a run on somebody, the track was blocked, anyway," he said.
"It was naturally two-wide, [and] became sort of three- and four-wide. If you start on single file, you make a run on somebody and you have a chance of making a pass.
"I just didn't think it suited IndyCar racing, when cars are bouncing off each other so much - and that did happen a lot.
"So I'm all for the single-file restarts on road and street courses and Indianapolis, too. It was a good decision."
In another change, drivers who enter the pits when pitlane has been declared closed during a full-course caution can avoid a penalty if they continue through the pits without stopping.
Finally, a new pitlane exit light has been added. If another car on the track is approaching the pit exit, a driver exiting pitlane will be warned via four flashing blue lights on the tower.